Local
From Cardinal Seán's blog
By
Posted: 5/8/2015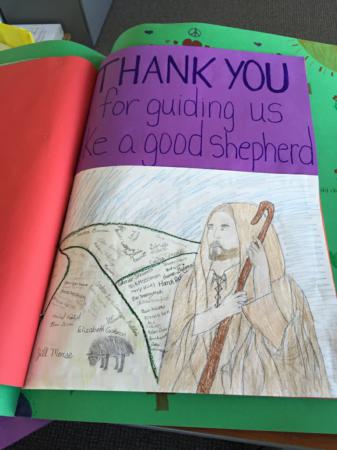 'Finally, this past week I received a wonderful surprise. Students from a number of our Catholic schools sent me cards, letters and other art for Good Shepherd Sunday.' Pilot photo/CardinalSeansBlog.org
---
This week, the American Cardinals dinner, the annual fundraiser for the Catholic University of America, was held in St. Louis. The dinner this year was a great success, raising over $1 million for scholarships to CUA. As always, the evening begins with a Mass, and this year it was celebrated by Archbishop Robert Carlson in the very beautiful cathedral basilica of St. Louis. I would certainly say it is one of the most beautiful cathedrals in United States.

St. Matthew's Cathedral Anniversary

From there I went to Washington D.C. to join in the celebration of the 175th anniversary of St. Matthew's Cathedral. I had worked there for 20 years, so they invited me to give a talk on the Cathedral. I shared many of my personal experiences of working there, and reflected on the idea of the cathedral as the New Jerusalem, a field hospital and the home of the Good Shepherd. There were about 800 people there for the celebration. It was an opportunity to see a great number of former parishioners, and many people I had baptized or married.

Thanksgiving Mass for Father Sepe

Tuesday (4/28) we had a Mass to thank Father Kevin Sepe for his fine service as Episcopal Vicar and Secretary for Parish Life and Leadership. Father Kevin is leaving his post at the Pastoral Center to become a pastor in Wellesley. After the Mass, we had a light reception upstairs, with a very impressive cake! We are also grateful to Father Bryan Parrish, who will be stepping into Father Sepe's shoes.

St. Andrew's Dinner

Tuesday evening, we had one of our regular St. Andrew's Dinners for young men considering a vocation to the priesthood at St. Margaret's Parish in Burlington. It's always an opportunity for us to spotlight our seminarians, and several of them spoke and gave witness talks. Afterward, the young men had an opportunity for questions and answers. I have always found that these dinners are a very good way of introducing the theme of vocations and vocational discernment to young men throughout the diocese.

Boston Province meeting

Wednesday morning (4/29), we had our regular meeting of the bishops of the Boston Province here at the Pastoral Center. We meet twice a year as a province. We were happy that so many of the bishops were able to be with us, including a number of retired bishops, such as Bishop McNaughton, who is a retired Maryknoll bishop who lives in the area. This was also the first time that Bishop Chris Coyne, the new Bishop of Burlington Vermont, was with us.

Dinner at BC

Yesterday evening (4/30), I attended the dinner at Boston College celebrating the naming of the college's School of Arts and Sciences after Robert Morrissey. The dinner was held in the beautiful library building. Bob is a very generous and committed Catholic who has been very involved with the archdiocese, particularly with our finance committee. He and his five children are graduates of Boston College and he was a member of the Board of Trustees of Boston College for more than 30 years.

Father McLellan funeral

Earlier today (5/1), we celebrated the Funeral for Father Mike McClellan, who died unexpectedly at his parish in Canton on Good Shepherd Sunday. It was certainly quite a shock to all of us. His brother, who is a Franciscan preached the Mass and many of his classmates joined us as well. It was a sad loss, but we commend his soul to God's mercy and pray for his parishioners, many of whom are still in shock. A sudden death like this leaves people completely unprepared. He was a relatively young man, so that made it all the more traumatic.