Local
Haverhill Catholics united after creche desecration
By Christopher S. Pineo
Posted: 1/2/2015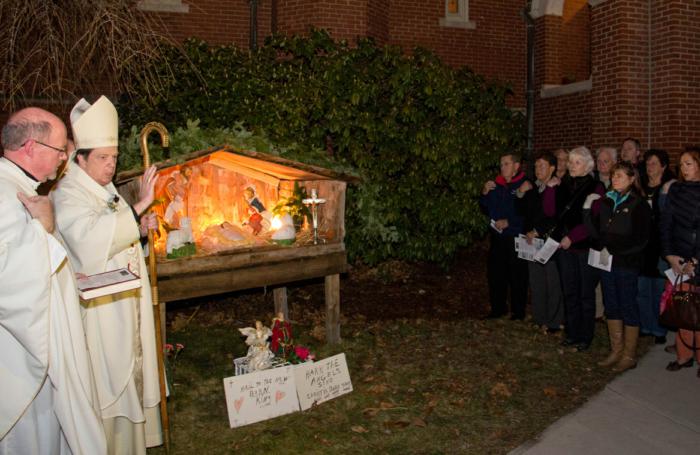 Bishop Robert F. Hennessey blesses parishioners gathered around the parish creche following a Dec. 27 Mass. The creche was found desecrated on Christmas day. Pilot photo/Christopher S. Pineo
---
HAVERHILL -- Even as parishioners at Sacred Hearts Parish in Haverhill sought answers as to why someone would desecrate their parish creche, they gathered to comfort one another with the presence and support of Bishop Robert F. Hennessey, their regional bishop and a resident of the town.

Bishop Hennessey celebrated the vigil Mass of the Feast of the Holy Family, Dec. 27, and afterward gathered with parishioners to bless the parish creche, from which the baby Jesus had been taken and replaced with a severed pig's head during the early hours of Christmas.

Pastor Father John W. Delaney said Bishop Hennessey, who is bishop of the Merrimack Region, contacted him Christmas Day to express his concern for the parish community and insisted on being with them for the Feast of the Holy Family.

"We come here to be full of hope, full of healing, full of love, full of forgiveness," Father Delaney said as the Mass began.

The vandalism was discovered by parochial vicar Father Benjamin T. LeTran, who had last checked the creche just after celebrating the Christmas Eve Midnight Mass. He said all seemed in order at that time, but when he awoke early the next morning, he found the manger scene desecrated.

"I have a habit of looking at the nativity, because for me it is a great message -- the message of God's love for us, the message of peace that Jesus brings into this world," he said.

He said that as he walked toward the nativity, rain coated the plastic window over the front of the creche. When he peered in, he could not see precisely what the black object inside was.

"I didn't imagine it was a real pig head," he said.

The pastor later confirmed with him what it was, and the police were called to investigate. He said police took a closer look and removed the head.

A neighborhood woman had replaced the infant statue shortly after the vandalism.

Haverhill police held a press conference Dec. 26, at which they said the crime may be treated as a hate crime. They noted that the pig's head used in the desecration was black, unlike those typically slaughtered for pork. Police encouraged the public -- especially local butchers and farmers -- to come forward with any information. Haverhill police also contacted the FBI.

In his homily, Bishop Hennessey reached out to those who might feel down during the season of Christmas, whether dismayed by the vandalism or experiencing other hardships.

"Maybe there is somebody in here who is just unemployed? It's been real tough this year. I want to let you know at the outset that I'm aware, as your priests are, that for some of you Christmas is not the most wonderful time of the year. It's o.k. to be sad," Bishop Hennessey said.

The bishop also conveyed the support of the archdiocese and Cardinal Seán P. O'Malley.

"I'm here to represent the Archdiocese of Boston, but in a special way to represent Cardinal O'Malley, who certainly is aware of what's going on, has been praying for you, been praying for your families, been praying for your parish, and certainly praying for your pastors," Bishop Hennessey said.

He acknowledged that questions regarding the investigation remained unanswered, but said Christians are called to pray for their enemies.

"When it comes to who did this, or why did they do it? That's something for the police to figure out. They know how to confront crime, but we know how to confront evil. That's why we gather as a Church, together, to pray," he said.

He said Christmas reminds the faithful of a true joy, not necessarily laughing or happiness, but an inner realization that no matter how bad things get, they will get better with the arrival of Jesus Christ.

"Even though the image of the child Jesus left this parish for several hours, Jesus never left. He was here and is here with all of you," he said.

Bishop Hennessey said even the Holy Family faced hardship such as giving birth in a manger, the flight to Egypt to avoid King Herod, and Mary raising the child Jesus alone after the death of Joseph.

"Their life was not easy, but it was holy," Bishop Hennessey said.

He said ordinary families and the Church as a family can echo the Holy Family by keeping Christ at the center.

"I'm saying these things, not to make (the Holy Family) like us, but to realize that we can be like them. We are called to live as a Holy Family," he said.

"This isn't an easy time for all of you, I know that, but because you are a family, and because here in this church you form a Holy Family with Jesus present, you will get through this," he said.

After the Mass, many of those gathered joined the bishop and the pastor for a blessing of the creche with the infant Jesus statue at the center.

After the blessing, the group sang "Silent Night."

Barry Mooers, a Sacred Hearts parishioner of 40 years, stayed after most had left to ask Bishop Hennessey to bless rosaries for his children.

"I think it's a wonderful sign of solidarity that he would come on such short notice and be here for us," Mooers said.

He said he did not know if the vandalism was an expression of anti-Catholicism or a hate crime, but, "It just seems kind of heinous that somebody would leave a pig's head in a manger. That's really going over the top."

Anyone with relevant information can call Haverhill police at 978-373-1212.