Obituary
Obituary: A great priest -- Bishop Joseph F. Maguire
By Father Robert M. O'Grady
Posted: 12/5/2014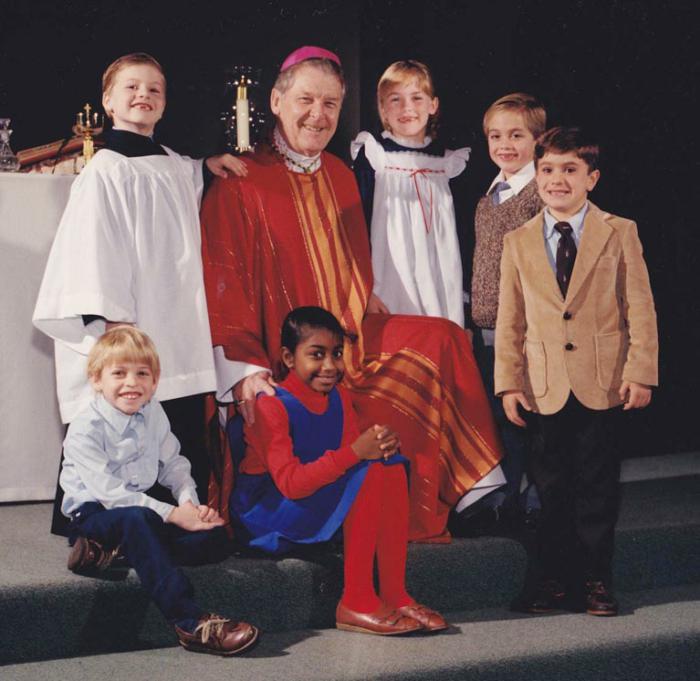 Bishop Joseph F. Maguire with some of his young friends in Springfield. Photo courtesy/Diocese of Springfield
---
''Ecce Sacerdos Magnus'' -- initial words of the Latin chant for the welcoming of a bishop. Bishop Joseph Francis Maguire probably heard those words many times -- in the seminary, at cathedral celebrations, at his episcopal ordination and subsequently. Those who knew him suspect these were the words accompanying him as he approached his Lord following his death on Nov. 23, 2014 at his home in Springfield.

Born in Boston's Roxbury section on Sept. 4, 1919, he was the older of the two children of the late Joseph (d. 1974) and Grace (Wenger) Maguire (d. 1973). His younger sister Grace Waystack to whom he was always close and who was his greatest confidant and support died in 2012 at 88.

The family moved to Brighton and Joe and Grace were raised in St. Columbkille Parish attending the parish elementary and high school taught by the Sisters of St. Joseph. Recalling those years he once noted "we were not especially pious, just an average Catholic family." Msgr. Bill Fay, former pastor of the Brighton parish told us that "he never lost contact with the parish; he would be here for funerals, parish celebrations; and sometimes just call to find out how things were going."

An outstanding student athlete, he was graduated from the parish high school in 1937 and entered nearby Boston College a member of the class of 1941. At the Heights he remained a standout student and athlete excelling on the baseball diamond and the hockey rink. Brandeis University's chaplain Father Walter Cuenin recalled "My dad and Joe were great friends -- roommates on the road with the hockey team." Coached on the ice by the legendary BC Coach John "Snooks" Kelly, he followed the Eagles until his last days. "Snooks" used to comment or brag "Lots of coaches have coached pro's and Olympians, I am the only one who coached a bishop." In 1976, he was granted an honorary doctorate by his alma mater; and in 1984 he was inducted into the Boston College Hall of Fame.

It was at BC where he first was asked about being a priest by a Jesuit "I had actually never thought of it before. And after he asked me I made every effort to avoid him crossing the street if I saw him or taking longer ways around campus." As he thought more about it, he thought he should give it a try.

Thus following graduation from BC in 1941 (and an attempt to sign up with the Marines "they never called me back."), he entered St. John Seminary, across from BC and not a mile from home. Shortly before ordination he broke his leg -- "coming into home" -- at a game on seminary grounds. But he scored.

Archbishop Richard Cushing ordained him to the priesthood at Holy Cross Cathedral on June 29, 1945. At his death, he was the last member of that seminary class.

Over the next 17 years he would be a curate at four parishes; the first at St. Joseph, Lynn (1945-1947). Father Richard Mehm, pastor of Immaculate Conception, Malden recalled "My sister Nancy was the first baby he baptized at St. Joseph; he reminded me of that every time he saw me." My mother, Betty told my father "Joe, give Father Maguire an extra stipend." The reason? "He's so good looking," which Father Mehm duly reminded the bishop.

The following year found him at St. Anne Parish in Boston's Readville section, where he sparked an interest in a priestly vocation in one of his altar servers -- Msgr. Peter V. Conley; the bishop and monsignor remained lifelong friends and legendary story tellers.

In 1948 he moved across the city to Blessed Sacrament in Jamaica Plain where he would remain for the next dozen years. On his arrival he was met by a newly minted Father John J. Mulcahy -- later secretary and master of ceremonies for the archbishop and then auxiliary bishop of the archdiocese. The two became fast and lasting friends. In 1960 he was curate for two years at St. Mary of the Hills, Milton.

In 1962 he was named secretary to Richard Cardinal Cushing; in 1964 he was named a monsignor; and in 1965 archdiocesan master of ceremonies. During these years he was constantly at the cardinal's side. Even though these were years of decline in the cardinal's health and stamina, he kept Joe busy. The stories of "the Cush" multiplied in these years and Joe's amazing memory kept them alive to the end. In addition to his gracious demeanor, priestly manner and gregarious style, he had an amazing memory not only for "Cushing stories" but for names and places.

Following the death of Cardinal Cushing on Nov. 2, 1970, Msgr. Maguire remained on as secretary to the new Archbishop Humberto S. Medeiros. On May 4, 1971 he returned to parish life as pastor of St. John the Baptist in Quincy. The return was short-lived; on Dec. 1, 1971 he was named titular bishop of Mactaris in Mauretania and auxiliary of the archdiocese. On Feb. 2, 1972, Archbishop Medeiros ordained him and his episcopal twin, Most Rev. Lawrence J. Riley as bishops at Holy Cross Cathedral. His episcopal motto was "Nihil impossible apud Deum" -- Nothing is impossible with God; the words had guided him to that day and would for the next 42 years.

With the creation of pastoral regions of the archdiocese, Bishop Maguire took responsibility for the South Region. In the the next four years appreciation for his priestly heart, warm smile and considerate interest in the priests and people, parishes and activities of his region unfolded in his usual quiet and unassuming fashion.

Blessed Paul VI appointed him the coadjutor bishop of Springfield on April 3, 1976 and on the resignation of Bishop Christopher Weldon on Oct. 15, 1977 he became the fifth bishop of the Commonwealth's most western see.

Not surprisingly he gained a reputation as a "people's bishop" being present for events large and small across the diocese. It was in his time that the diocese received its first auxiliary bishop, Leo O'Neill (later bishop of Manchester) -- the two functioned well as an "episcopal team" -- playing off each other's complimentary personalities.

Following a heart attack in 1991, the bishop offered his resignation to St. John Paul II and it was accepted Dec. 27, 1991. Although "retired" the bishop was still active: Assisting his successors in Springfield, both sacramentally and with his sage and wise counsel; in regular contact with family and friends, classmates and priests; and not surprisingly out and about the diocese "just being present." His health declined over the past few years and he was more restricted physically, but his mind remained sharp.

Bishop Maguire's Funeral was celebrated on Dec. 1 (the 43rd anniversary of his nomination as bishop) at St. Michael Cathedral, Springfield. The diocese's present Bishop Mitchell Rozanski was the principal celebrant, with former Bishop Timothy McDonnell as the homilist.

Among the other bishops present and concelebrating was another of Boston's former auxiliary bishops, Hartford's retired Archbishop Daniel A. Cronin; there were nearly 100 priests, some 40 permanent deacons and 500 people at the Funeral Mass. Boston's Cardinal Seán P. O'Malley presided at the Mass and celebrated the Final Commendation after which Bishop Maguire was entombed in the Mausoleum of St. Michael Cemetery, Springfield.

Among the lines in the hymn ''Ecce Sacerdos Magnus'' are the words "qui in diebus suis placuit Deo" -- who in his day pleased God: Joseph Francis Maguire -- a great priest who in his day pleased God.