Local
MCFL walk back in Boston this June
By Christine M. WilliamsSpecial to The Pilot
Posted: 6/13/2014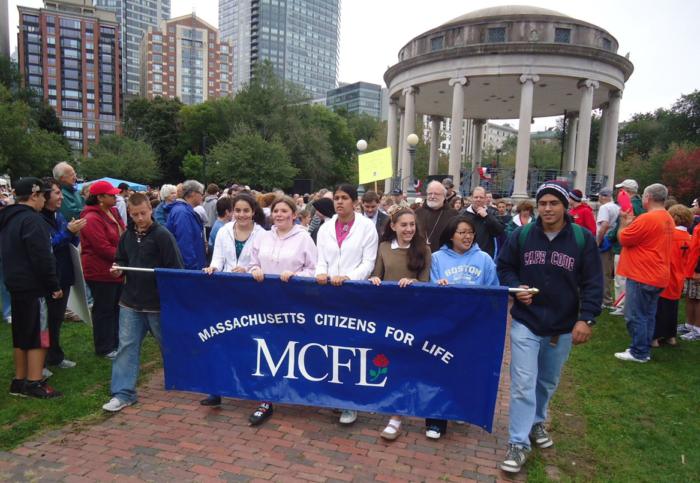 Participants carry the banner of Massachusetts Citizens for Life on Boston Common during the 2011 Walk to Aid Mothers and Children. After being held at National Shrine of Our Lady of La Salette in Attleboro last year, this year's walk will once again start on Boston Common. Pilot file photo/Patrick E. O'Connor
---
This year, the Massachusetts Citizens for Life's (MCFL) annual Walk to Aid Mothers and Children will be back in Boston and held June 29.

The baby leading the way will be 16-month old Ryleigh, voted this year's Walk Baby. She and her family are parishioners at St. Anne Parish in Shrewsbury.

Ryleigh's mother, Courtney Mayo-Silvani, said she has always been pro-life, but having children strengthened her convictions. She was particularly moved when viewing ultrasound images of each of her children.

"You see that little miracle," she said. "Somebody not wanting to give that little life a chance is just so sad. Even if they can't care for the child themselves, there's somebody out there that would love that child."

Mayo-Silvani said she experienced complications during her pregnancy with Ryleigh that made the baby's survival uncertain. Thinking about her baby heading the walk gives her "the chills."

"She's such a cheerful, happy baby, and it's such a happy, hopeful charity that I just feel that it's meant to be," she said, adding that she and her husband feel blessed to have Ryleigh.

Mayo-Silvani also feels blessed because she recently had successful surgery to remove a benign brain tumor. Last October, she went in for a scan of her collar bone, but a paperwork mistake caused technicians to perform a brain scan. As a result, they discovered the tumor early.

Mayo-Silvani attributes the mix-up to God.

"It's a miracle," she said, adding that the treatment for the brain tumor spurred the entry into the Walk Baby contest.

"We were going through a rough time. We wanted something to look forward to," she said.

Registration for the 28th walk will take place on Boston Common at the Parkman Bandstand, near Tremont Street, at 1:30 p.m. The walk, which will benefit 27 Pro-Life organizations, will start at 2:30 p.m.

Historically, the walk has been held in October, but last year MCFL decided to schedule it for the spring in order to have it at a different time of year than the October fundraising banquet. The change in the time of year prompted a change in venue. It was held at La Salette Shrine in Attleboro.

MCFL president Anne Fox praised the shrine staff for their hospitality, and many participants reported to her that they loved the location. Others felt strongly that the walk should be held in the Commonwealth's capital. After taking in everyone's feedback, MCFL decided to move the walk back to Boston and hold it the last Sunday in June.

"People come and, obviously, they are raising money for the beneficiary groups. That's the main thing," said Fox, adding that another aspect of the walk is the opportunity to give pro-life witness. Many participants expressed a desire to give that witness near the Massachusetts Statehouse.

Fox said the walk gives pro-lifers the opportunity to raise money for some fantastic charities -- groups that are in the trenches for the pro-life cause every day. Many are crisis pregnancy centers. Other groups include homes for pregnant women, the pro-life offices in each Massachusetts diocese and Project Rachel, which supports women recovering from abortion.

Even if an individual cannot attend the walk, they have the opportunity to donate to the benefit organizations through the walk's website, respectlifewalk.org.

"We all want to do something to help women keep their babies," Fox said.

Matt Hanafin, MCFL's director of outreach, said that the website contains information on each beneficiary organization and describes in detail the "fantastic work" those groups do -- often on a shoestring budget.

"It's very important for people to realize that a lot of these organizations, ourselves included, receive no state funds at all," he said. "We do depend on outside donations from the generous people in the state, and that's really why we started this walk. We understood that there were much-needed funds for all these organizations."