Local
St. John's Seminary recognizes supporters at first annual dinner
By Christopher S. Pineo
Posted: 2/7/2014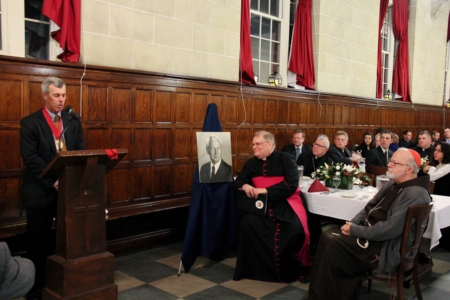 Jack Shaughnessy Jr. delivers remarks after receiving St. John's Seminary's Archbishop John J. Williams Medal on behalf of his late father, Jack Shaughnessy Sr. Pilot photo/courtesy St. John's Seminary
---
BRIGHTON -- St. John's Seminary in Brighton honored those who support their mission with their First Annual Benefactor's Banquet, Jan. 26.

After an evening Mass, 22 benefactors joined Cardinal Seán P. O'Malley and seminary rector Msgr. James P. Moroney for a dinner reception and presentation of awards in the refectory.

"The benefactor's banquet was a wonderful opportunity for us to be able to say thank you to those people who support us both financially and spiritually as the largest and oldest seminary in New England," Msgr. Moroney said.

During the evening, the seminary recognized two benefactors for their faithful support over the years.

The seminary presented Loretta Gallagher with the Saint John the Evangelist Medal for her support over the years both in prayer and action.

"The St. John the Evangelist Medal is designed to recognize someone who has made extraordinary spiritual contributions to the life of St. John's Seminary," the rector said.

The seminary also posthumously presented Jack J. Shaughnessy Sr. with the Archbishop John J. Williams Medal. The medal was accepted by his son, Jack Shaughnessy Jr.

"Jack Shaughnessy was one of my closest advisors and dearest friends in the first two years of my service as rector at St. John's. He was a man who was not only generous, however, with his sage advice, but with his generous financial contributions to the seminary. I don't know of anyone who has been more generous, or more devoted, to the vision of St. John's Seminary throughout the years," Msgr. Moroney said.

"The Archbishop Williams Medal honors a person who has made significant contributions to the temporal life of the community, through development, financial contributions, and advice concerning ways in which we can sustain St. John's Seminary for years to come," he said.

The evening also honored those who have given more than $1,000 to the seminary.

The rector said the past year has seen St. John's Seminary embark on a comprehensive effort to engage people to support the work of the seminary.

"People have responded in marvelous ways, and this benefactor's banquet was simply an attempt to recognize and celebrate that wonderful reality," he said.