Local
WQOM Mass Pike billboard defaced
By Christopher S. Pineo
Posted: 8/30/2013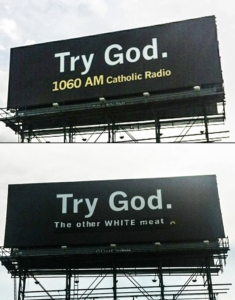 The WQOM billboard along the Massachusetts Turnpike in Brighton pictured before and after the Aug. 23 defacement. Pilot photos/courtesy WQOM
---
BOSTON -- Officials at radio station WQOM 1060AM expressed their disappointment Aug. 23 after learning that their billboard advertisement along the Massachusetts Turnpike in Brighton had been altered from "Try God: 1060AM Catholic Radio" to "Try God: The other WHITE meat."

The billboard is part of a campaign running from July through September in the Greater Boston area aiming to reach a cross-section of the Boston community with the "good news" of the gospel message and introduce listeners to some outreach ministries of the Catholic Church. The campaign features 23 billboards on area roadways, including the Mass. Pike location in Brighton, I-93 North in Medford, and the Southeast Expressway in Dorchester.

"It's very sad to learn that someone would deface our billboard and its uplifting message which encourages people to explore their friendship with God," stated Chris Kelley, 1060AM station manager.

The new wording recalling the long-running National Pork Board slogan was printed on what appeared to be a banner, matching the colors and typeface of the original "Try God" text and overlaid on the bottom of the billboard.

"This is clearly not a circumstance of some teenagers with spray paint. Someone went to a lot of trouble to make it appear that the new text was a real billboard message," Kelley said.

Scot Landry, host of the local The Good Catholic Life radio program on WQOM, said he sees he defacement as having larger implications for the local religious community.

"An act against one faith, in some ways, is an act against all faiths, and against all people of faith," he said.

"This act of vandalism was certainly not a prank. It should cause us to reflect on the subtle and not-so-subtle ways that hostility is increasing against the practice of faith and against religious expression," he added.

Striking a more positive tone, Kelley said the defacement and an Aug. 16 editorial cartoon in the Boston Globe based on the billboard campaign are at least indications "that the 'Try God' billboard campaign is attracting attention and making people reflect on the role of God in our lives."

He said those at the radio station will pray for the vandals.

"We ask them to 'Try God,' perhaps by listening to 1060AM Catholic Radio," Kelley said.