Obituary
Obituary: Father Thomas F. Murray, 81
By Donis TracyPilot Correspondent
Posted: 6/1/2012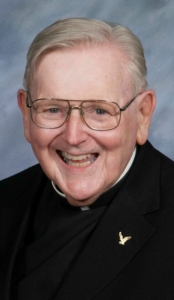 Father Thomas F. Murray Pilot file photo
---
Father Thomas F. Murray passed away May 26 at Marion Manor in South Boston. He was 81 years old.

Born in Dorchester on Sept. 23, 1930 to Thomas and Grace (McGee) Murray, he was one of four of their five children who would go on to enter priestly or religious life. Father Murray is the brother of Sister Frances Murray CSJ of Framingham and the late Sister Aileen Murray CSJ, Msgr. Robert Murray and Grace Sexton.

He attended Boston College High School and earned his bachelor's degree from Boston College before entering St. John's Seminary. He was ordained by Bishop Jeremiah F. Minihan on Feb. 2, 1957 at Holy Name Church in West Roxbury.

His first assignment following ordination was as parochial vicar at St. Anne Parish in Peabody, where he served for almost exactly two years. In February 1959 he was assigned as parochial vicar at Corpus Christi Parish in the Newton village of Auburndale.

In September 1966 he was named parochial vicar of St. Pius V Parish in Lynn and in June 1974 he was named associate pastor of Most Precious Blood Parish in Hyde Park. In July 1985 he was made pastor of Sacred Heart Parish in South Natick where he remained until he was granted senior priest/ retirement status by Cardinal Bernard Law on Sept. 23, 2000. As a senior priest, Father Murray resided in Mashpee and continued to assist at parishes in the Cape Cod area.

He is survived by his sister, as well as his nephews Robert Sexton of Chelmsford and Thomas Sexton of Taunton and his niece Mary Grace Sexton of Mamaroneck, N.Y.

Father Murray was to lie in state May 30 at St. John the Evangelist Church in Canton followed by a May 31 funeral Mass at the church. The homilist was to be Father Paul F. Bailey. Designated concelebrants were Msgr. Francis J. McGann, Msgr. John A. Perry of Fall River, Father Hugh H. O'Regan, Father Paul A. Phinn, Father Paul G. McPartland and Father Lawrence J. Rondeau.

Interment was to be at Holyhood Cemetery in Brookline.