Local
Back to school at new Catholic academy
By Jim Lockwood
Posted: 9/10/2010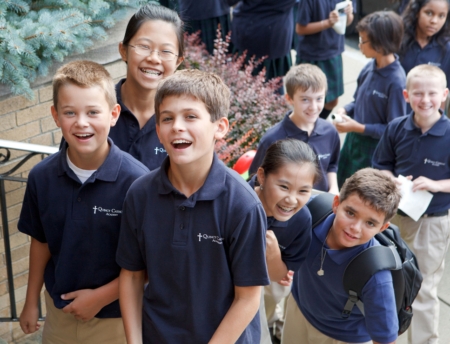 Students climb the stairs of Quincy Catholic Academy Sept. 8 following a Mass with Cardinal Seán P. O'Malley at Sacred Heart Church to open the school's academic year. The new Catholic academy was formed from the consolidation of the schools of St. Ann, St. Mary and Sacred Heart parishes. Pilot photo/ Gregory L. Tracy
---
QUINCY -- For some it was a familiar return, while for others it marked a prayerful opening to the school year in new surroundings. However, for all the students, it was the chance to make history.

On Sept. 8, students, faculty, parents and friends of Quincy Catholic Academy (QCA) gathered for Mass at Sacred Heart Church to open the new school with Cardinal Seán P. O'Malley as the main celebrant. Following the Mass, Cardinal O'Malley toured the school and met with students in various grades.

"Boys and girls, you may not realize this but you are making history today," said Archdiocese of Boston school superintendent Mary Grassa O'Neill in her remarks following Communion. "You are making history by participating in this opening Mass for this wonderful Catholic school in Quincy."

"We ask you to work hard, do your very, very best, and make Quincy Catholic Academy the best school in the archdiocese," she later said.

Quincy Catholic Academy, housed at the former Sacred Heart School building, opened this year with an enrollment of about 400 children in Grades K1 through 8.

Highlights of Cardinal O'Malley's tour included him performing a science experiment that the school's seventh graders had conducted in class that day, observing a Grade 1 gym class and hearing a K1 class sing a prayer. While on tour, he also learned about the school's curriculum and program offerings from principal Catherine Cameron.

Cardinal O'Malley saw the interactive white boards that are in every middle school classroom, learned of future plans to start a program for three-year olds, and learned that the school participates in the National School Lunch Program, which gives qualifying students lunch at reduced or no cost.

"There's just been a good enthusiasm," said Sacred Heart pastor Father John O'Brien. "The students are enthused and happy."

School officials cited declining enrollment and the resulting financial constraints as reasons for the formation of the school in January. The academy was formed this year from the merger of three Quincy Catholic schools -- Sacred Heart, St. Ann and St. Mary.

Father O'Brien said that students have already mixed into their new surroundings, regardless of the school from which they came.

"It's hard to tell which is which," he said. "They've blended really well."

Michael Monahan's children, in grades 7 and 4 at QCA, had to assimilate into the new school after making the move from St. Ann's School.

"It was discouraging when we found out what was going on," he said. "We had a good thing going at St. Ann's. They were very secure at St. Ann's."

After Monahan, his wife, and children met with QCA principal Catherine Cameron to discuss the impending changes, they were confident in their prospects at QCA.

Monahan said he and his family were "very comfortable" as a result of the meeting.

"We're happy here now that we're here," Monahan said.

For Dottie Wilk, whose children attended Sacred Heart and whose grandchildren attend the new Quincy Catholic Academy, the news was not surprising.

"I saw the parishes shrinking and the schools shrinking," Wilk said.

"I think it's going to be very successful," she said. "I think everybody has a very positive attitude."

Several Catholic elementary schools have merged with other local Catholic schools to form regional academies recently.

Also this year, St. Patrick School in Lawrence and Our Lady of Good Counsel School in Methuen merged together to form the new Lawrence Catholic Academy.

Last year, Cardinal O'Malley celebrated the opening Mass for South Boston Catholic Academy, formed from the merger of St. Brigid and Gate of Heaven Schools. The academy is in its second year at the St. Brigid's site.

In 2008, Pope John Paul II Catholic Academy formed from the consolidation of five Dorchester and Mattapan Schools. The academy now consists of four campuses in those towns.

Trinity Catholic Academy formed in Brockton from the merger of St. Edward's and St. Colman's Schools in 2007.