Local
Obituary: Father William Smith, lifelong parish priest
By Father Robert M. O'Grady
Posted: 7/16/2010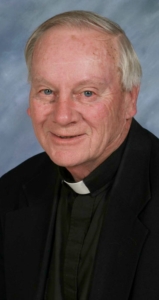 Father William P. Smith Pilot photo
---
Described by classmates, seminary contemporaries and friends as a simple, ordinary parish priest, Father William P. Smith died on July 9 in his native Winchester. He had been a senior priest of the archdiocese since his retirement a few months ago.

A son of Frank and Agnes (McMorrow) Smith, he was one of their four children, Frank and two sisters: Mary and Jeanne, Father Smith's immediate survivors. Raised in Winchester, he attended the St. Mary Parish grammar school and then daily trekked into Boston where attended Boston College High School. Following graduation, he entered archdiocesan seminaries and on completion of those studies, Richard Cardinal Cushing ordained him to the priesthood at Holy Cross Cathedral on June 7, 1967.

Following ordination, he was assigned to the first of five parishes where he would serve either as assistant, associate or parochial vicar. St. John Chrysostom, West Roxbury (1967-1974); St. Dorothy, Wilmington (1974-1985); St. Joseph, Malden (1985-1994); St. Michael, Bedford (1994-2000); and St. Bridget, Lexington (2000-2010). As one of his contemporaries said, "he always wanted to be only a parish priest." Patrick O'Connor, an occasional contributor to this paper, recalled fondly Father Smith's years at West Roxbury. "He was very active, getting us involved... a greater promoter of baseball among the altar servers." Father James O'Leary, pastor of St. Camillus, Arlington, recalled "Smitty's" interest in sports -- "He held the exalted title 'magister ludi' or Master of Games at the seminary, meaning he was in charge or organizing the seminarians into teams for various athletic competitions." From all reports that was the only title he had -- other than "Father" that he wanted.

With West Regional Bishop Walter Edyvean presiding and delivering the final commendation, Father Smith's funeral Mass was celebrated July 14 at St. Bridget Church, Lexington. Father Joseph Robinson, pastor at St. Margaret, Burlington was the principal celebrant and homilist of the Mass. Among those joining him as concelebrants were archdiocesan vicar general, Father Richard Erikson; St. Bridget's pastor, Father Arnold Colletti and its former pastor, Father Eugene Curtin. Classmates and contemporaries who indicated they would be present were Fathers Mark Sheehan, St. Michael Bedford; Father Edward Carroll, Regina Cleri Residence, Boston; Father Thomas Walsh, St. Christine, Marshfield; Father Arthur Wright, St. Mary of the Hills, Milton; and Father James McCune, Regina Cleri, Boston.

Following the funeral Mass Father Smith was buried in Calvary Cemetery, Winchester.