Obituary: Father Thomas C. Foley, retired Milton pastor
---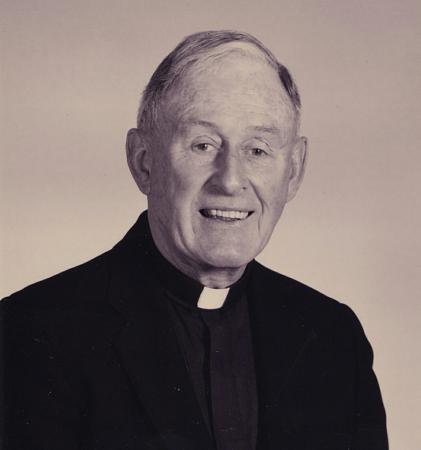 Father Thomas C. Foley Pilot file photo
Help us expand our reach! Please share this article
Father Thomas C. Foley, a Hub native born Nov. 4, 1931, and one of the eight children of the late Patrick and Annie (McGinley) Foley, died at Regina Cleri Residence on Dec. 14, 2019.

Raised in the overwhelmingly Catholic environment of Dorchester's Neponset section and a son there of St. Ann Parish, Father Foley attended the parish grammar school and commuted to the then recently opened Matignon High School in Cambridge. He entered the archdiocesan seminaries at Brighton and Auxiliary Bishop Jeremiah F. Minihan ordained him to the priesthood at Holy Name Church, West Roxbury, on Feb. 2, 1957.

In his youth, he was lucky to know several of the outstanding priests assigned to his home parish. These priests, in addition to his own family, had a formative influence on his own decision to pursue a priestly vocation. He mentioned specifically: the pastor Msgr. John O'Donnell and assistants Fathers John Hennessey and Francis Harkins.

During the next 24 years, he served as an assistant or an associate at five archdiocesan parishes: immediately following ordination -- St. Joseph, Woburn (where he was next door to fellow Neponset native and longtime friend and seminary classmate, the late Father James M. Larner, then at St. Barbara, Woburn); St. Thomas Aquinas, Jamaica Plain (1960-1962); St. Patrick, Lynn (1962-1969); St Theresa of Lisieux, Everett (1969-1977) and Our lady of the Assumption, Lynnfield (1977-1981).

In 1981, Humberto Cardinal Medeiros named him Director of the Office of Permanent Diaconate, where he was responsible for revising the formation program for candidates for the permanent diaconate. He served for five years and during those years also received a master's degree from Creighton University.

Bernard Cardinal Law named him pastor of Sacred Heart Parish in Lexington in June 1986. He remained there for a brief time until Cardinal Law named him pastor of St. Mary of the Hills Parish, Milton. At Milton, he succeeded the memorable Msgr. John Dillon Day, one of the more colorful and highly esteemed priests of the archdiocese. Also, the Milton appointment gave him, an avid golfer, a chance to lower his handicap by being much closer to the greens of Wollaston Country Club, where he was a long time member.

Following his retirement on June 2, 2002, he became a senior priest; and in 2005 was senior priest in residence at St. Clare, Braintree, until 2009; and then at St. Ann, Quincy. He later moved to Regina Cleri Residence, Boston.

Father Foley's Funeral Mass was celebrated at St. Mary of the Hills Church, Milton, on Dec. 21, 2019. Cardinal Seán O'Malley was the principal celebrant. Joining the cardinal were priest classmates and friends of Father Foley; while Deacon John Mannion was the homilist. Following the Funeral Mass, Father Foley was buried in Milton Cemetery, Milton.

Father Foley's immediate survivors are two brothers: Bernard, Ocean View, Md. and Richard, Canton.