Catholic Schools Office hosts 'Mental Health Week'
---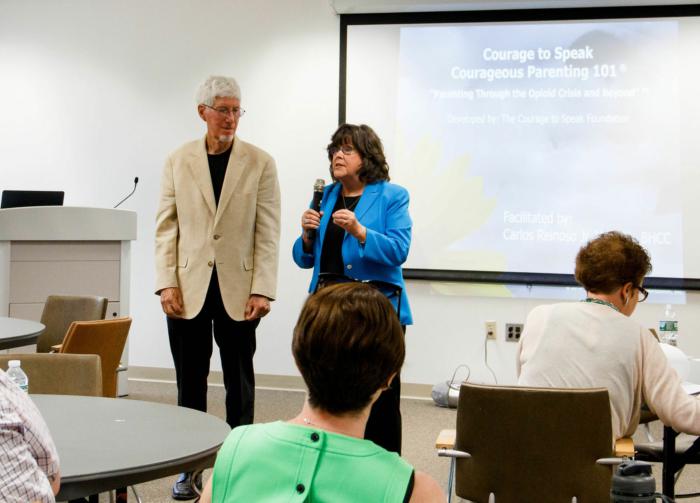 Ginger Katz and Carlos Reinoso from the Courage to Speak Foundation lead a presentation on substance abuse June 24 at the Pastoral Center as part of the Catholic Schools Office's Mental Health Week. Pilot photo/Jacqueline Tetrault
Help us expand our reach! Please share this article
BRAINTREE -- The Catholic Schools Office hosted its Mental Health Week, a week of presentations for Catholic educators, from June 21 to June 26.

"Unfortunately, children are experiencing more stress than ever before. It is important for teachers and principals to have learning opportunities that will provide them with insight and strategies for supporting children and their families. This is why we designed a week of learning dedicated to Mental Health," Mary Goslin, director of Government Programs, told the Pilot June 26.

The week kicked off with a "Building Healthy Minds" webinar on June 21. It consisted of a presentation by Patricia Coffey, Mental Health Education Program manager at Franciscan Hospital for Children. She said 20 percent of children have a diagnosed mental health problem, such as stress, anxiety, or depression.

She emphasized that educators need to help students develop coping skills and that students need to have personal connections with teachers and mentors in order to know they are valued and have adults they can turn to for help.

On June 24, Ginger Katz and Carlos Reinoso from the Courage to Speak Foundation each gave a presentation at the Pastoral Center about substance abuse. Katz shared the story of her son's struggle with addiction, and Reinoso followed up with information about drug abuse and strategies for parents and teachers to prevent addiction among their children and students.

Katz shared that when her son Ian died at the age of 20 from a heroin overdose, the doctors advised her and her husband, Larry, to tell people that Ian had died of an aneurism or a heart attack. But the night before his funeral, Katz decided to share the truth of how he died.

"He was a good kid. He made an unhealthy decision to use drugs, and I was not ashamed of him," Katz said.

After Ian died in 1996, Katz founded the Courage to Speak Foundation and, with a team of experts in substance abuse, developed a drug prevention curriculum for high school and middle schools. She speaks about her family's experience in an effort to end the silence and stigma surrounding addiction.

"Courage to Speak really means to get adults in your lives that you can talk to and have the courage to speak because it's okay to ask for help. This goes for adults as well. And if you see somebody in trouble, tell someone," Katz said.

She gave attendees copies of her book, "Sunny's Story," which describes Ian's life and death from the point of view of their family's beagle.

Reinoso's presentation was entitled "Courageous Parenting 101: Parenting Through the Opiate Crisis and Beyond." He shared statistics about drug abuse and prevention strategies for parents and teachers.

Reinoso and Katz both talked about the need to teach children refusal skills and warn them about the dangers of drugs. One point Reinoso made was that parents should tell children if a family member has an addiction, which may indicate that the child could have a predisposition to addiction.

"It has to be told to the young person. Why do we do it with cancer? Why do we do it with diabetes? Why don't we do it with addiction?" Reinoso said.

Carol Costello, a guidance counselor at St. Francis of Assisi School in Braintree who attended the Courage to Speak event, said Katz and Reinoso's presentations were "very relevant."

"So many of our families are struggling with this, and so many of our families are struggling in private," she said.

Mental Health Week events continued at the Pastoral Center with a June 25 workshop by Dr. Elizabeth Englander about how to incorporate bullying prevention into school curriculum. The following day, Dr. Nancy Rappaport gave a presentation about helping traumatized children, with methods for understanding and improving students' behavior in the classroom.

A common thread between the various speakers was the need for developing personal connections between students and trusted adults. Coffey encouraged school staffs to create maps linking students to faculty members who can mentor them.

Coffey and Katz both talked about helping children develop healthy coping strategies for dealing with stress, such as exercise, meditation, or prayer.

"By learning how to recognize and respond to stress, young children will hopefully prevent stress from becoming problematic later in life. Having the ability to respond effectively to symptoms of stress will benefit children in their teen years, especially if they are faced with the temptation of drugs and other mood altering substances," Goslin told the Pilot.