Pilot honored with six Catholic Press Awards
---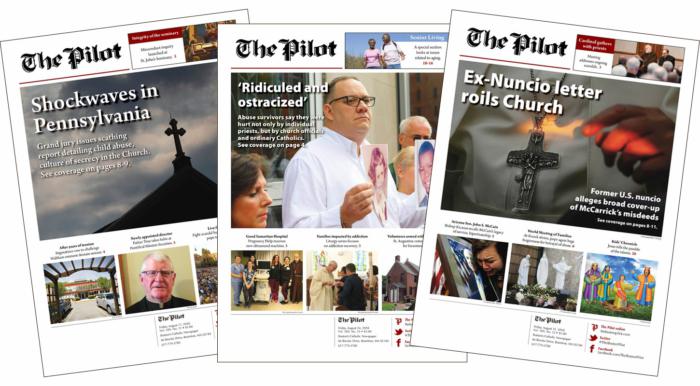 The Pilot earned the 2018 Catholic Press Award's first prize for Best Front Page among tabloid newspapers.
Help us expand our reach! Please share this article
BRAINTREE -- The Catholic Press Association honored The Pilot with six awards at the annual Catholic Media Conference held this year from June 18 through June 20 in St. Petersburg, Florida.

Each year, the Catholic Press Association invites submissions from Catholic newspapers, web sites, and magazines to be judged by a panel of independent experts for excellence. The Pilot has been honored with awards every year since 2002. This year, the Pilot received one first place, two second place, one third place, and two honorable mention awards.

Pilot production manager Nan Wilkins, managing editor Gregory Tracy, and editor Antonio Enrique received first place for the category of "Best Front Page -- Tabloid."

The contest judges noted that they did a "Nice job of balancing layout, photography, and teasers for articles inside," and the called the layout "very attractive."

Pilot staff received second place for the May 18, 2018, special edition "Celebrating the Newly Ordained" in the category of "Best Reporting on Vocations to Priesthood, Religious Life or Diaconate." In addition to commentary on vocations and formation, the issue featured profiles of the newly ordained by Pilot correspondent Donis Tracy.

"An impressive amount of work went into this section and the reader is left with a meaningful message -- and personal insight -- into each of these new priests," the judges said.

Tracy, Wilkins, and staff reporter Jacqueline Tetrault received two awards in the category "Best Layout of Article or Column" for a weekly diocesan newspaper with a circulation of 25,000 copies or fewer.

They received second place in the category for the Sept. 14, 2018, feature "Restoring and Re-Imagining the Cathedral of the Holy Cross."

"Good visuals interact with a crisp layout to ensure an engaging user experience that will have some impact," the judges noted.

In the category "Best Special Supplement or Special Issue with Advertising Emphasis," the Pilot received third place for its 2018 Catholic Schools "Open House" issue.

The judges called it "An attractive piece of work. The layout and colors make it vibrant and energetic -- a very suitable tone for an issue on schools."

In the same category, the Pilot received an Honorable Mention for its 2018 "Catholic Schools Week" special issue.

Tetrault also received an honorable mention for her Nov. 2, 2018, article "Boston Vigil Honors Victims of Synagogue Shooting" in the category of "Best News Writing on a Local or Regional Event."