Forming the Future: St. Mary of the Assumption hosts international students
---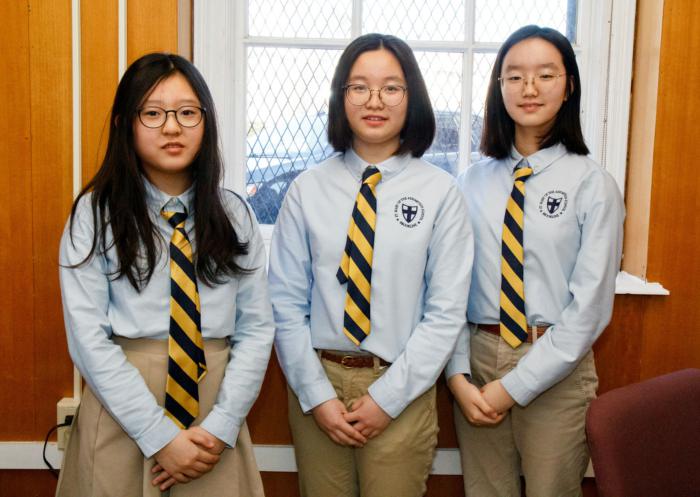 International students at St. Mary of the Assumption Elementary School in Brookline, Yumi Nagatomo, Layla Liu, and Eugean Jang. Pilot photo/Jacqueline Tetrault
Help us expand our reach! Please share this article
BROOKLINE -- St. Mary of the Assumption Elementary School is one of the few Catholic schools that issues I-20 visas, which allow students from other countries to live and attend school in the United States.

"St. Mary's is a very diverse population. We have 25 countries represented here. So this adds to the dimension of that," said Principal Dr. Theresa Kirk, speaking to the Pilot March 18.

According to Kirk, the school does not advertise this program, which has been running for about 10 years, and mainly attracts new international students by word of mouth. St. Mary's is also listed as a SEVIS (Student and Exchange Visitor Information System) accredited school and maintains that accreditation through the Department of Homeland Security.

The school can accept a limited number of students each year, usually no more than 12. Prospective students' parents are responsible for conducting home studies to find host families, usually from the same country of origin, for their children to stay with.

"We always meet the host families, the guardians, and they're very much a part of the schools. Some of them volunteer and become room parents and so forth," Kirk said. She added that she also meets the students' parents, who visit before they sign up for the program.

Each year, the students' visas are renewed and Homeland Security visits the school to make sure the program supports the students socially, academically, and spiritually.

"They're very much a part of the fabric of St. Mary's," Kirk said.

Eugean Jang, a grade-eight student from Korea, is in her second year at St. Mary of the Assumption. Her father and brother had previously visited the U.S. before she came. She told the Pilot she wanted to come to the U.S. because she wants to study drawing and animation, and she hopes to be an art major in college.

Layla Liu, a grade-seven student from China, began attending St. Mary's four weeks ago. She heard about American education from her brother, who studied in the U.S. for about eight years. Last summer she took language classes in Boston. She said one thing she likes about St. Mary's is the use of Chromebooks in the school. Her favorite subject is math and she plays the piano and guitar.

"I feel like I like American education better. It's more fun," she said.

Most of the international students come for grades six, seven, or eight, but some start even earlier. Kirk said one student from China, who was not available for an interview, is in grade three in his first year at St. Mary's.

Yumi Nagatomo, who was born in Japan but came to the U.S. from Korea, began attending St. Mary of the Assumption in grade three. She told the Pilot that her mother wanted her to go to school in the U.S. because "Korean education is very hard, like study, study, study."

She said she remembered her mother saying, "'Why don't you go there, and just try it, and see if it's good.' And then I came here and it was very good."

Now in grade seven, her favorite subjects are math and social studies.

Kirk said one student came to the U.S. from Rwanda in need of heart surgery. While unable to return home, she needed to find a school that could help her obtain an I-20 visa. She has attended St. Mary of the Assumption for three years, though she now also takes classes in Braintree.

"They're good students. We love having them and they're such good role models for our middle school students," Kirk said.