Cardinal O'Malley visits parishes during Catholic Appeal commitment weekend
---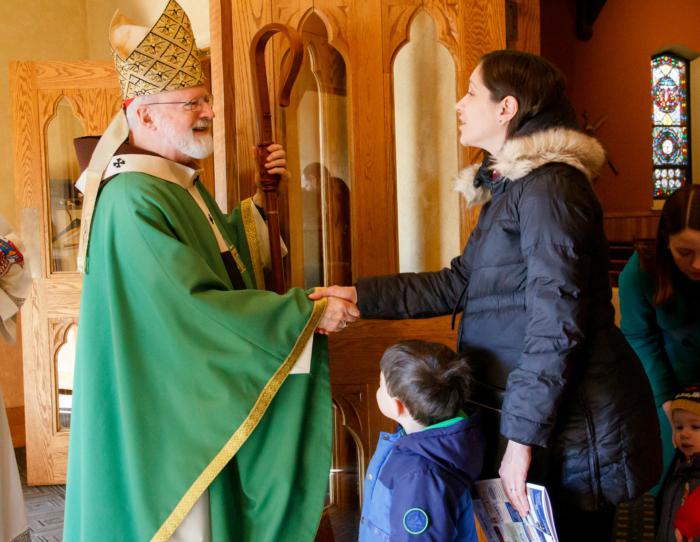 Cardinal O'Malley greets parishioners after Mass at St. Agnes in Arlington, March 3. St. Agnes was one of three parishes the cardinal visited for Catholic Appeal commitment weekend. Pilot photo/Jacqueline Tetrault
Help us expand our reach! Please share this article
ARLINGTON -- Following the announcement of the Catholic Appeal a week earlier, Cardinal Seán O'Malley celebrated Mass at parishes over the weekend of March 2-3 to speak about the importance of contributing to the annual fundraiser. He visited St. Mary Parish in Wrentham on March 2 and and St. Agnes Parish in Arlington and St. Angela in Mattapan on March 3.

The Catholic Appeal supports 51 ministries serving 1.9 million Catholics in the archdiocese. These programs include addiction recovery services, permanent diaconate ministry, Catholic education, youth ministry, faith-based community nursing, and liturgical music ministry.

In his homily at St. Agnes Parish, Cardinal O'Malley examined the three parables presented in the Gospel reading from Luke 6:39-45.

The first parable is about the blind leading the blind, which, Cardinal O'Malley said, could be seen as a reference to the Pharisees.

"In some ways, these words of Jesus can apply to us because all of us are somewhat blind, and yet all of us are called to guide others," he said.

He added, "We all need the light of Christ if we are going to be able to lead others."

The second parable, which Cardinal O'Malley said "has become almost legendary," is about the splinter in a neighbor's eye and the plank in one's own eye.

"I'm sure we're all tempted to say, 'That's so true and I wish people wouldn't be so judgmental,' which just goes to show how quick we are to see other people's faults and be blind to our own. Jesus wants us to look into our own hearts. Before we can change society, we have to reform ourselves. Our Church must always be looking for ways to reform itself so we can carry Jesus' message more effectively," the cardinal said.

The third parable describes a good tree bearing good fruit and a bad tree bearing bad fruit. Cardinal O'Malley connected this parable to the new commandment Jesus gives his disciples near the end of St. John's Gospel, to love each other the way he loves them (John 13:34).

"This new commandment was directed particularly to the disciples in the community of faith," Cardinal O'Malley said, adding that their love for each other would be the fruit by which people would identify them as Jesus' disciples.

"Jesus wants his love for us to be the measuring stick for that love. Well, how does Jesus love us? He loves us, as the scriptures say, he loves us first, when we're still in sin, when we're still indifferent. He doesn't wait for us to love him and then love in return. He loves first. And in building a community of faith we have to learn to love as Jesus does. We have to learn to love first, to forgive first, not to wait for people to be nice to us and then befriend them," the cardinal said.

Speaking on the Catholic Appeal, Cardinal O'Malley said, "For priests and bishops it's always hard to ask for money, but I find my inspiration in St. Paul."

He pointed out how much time St. Paul dedicated to taking up collections during his missionary journeys. Cardinal O'Malley said these collections had two purposes: to aid the persecuted Church in Jerusalem, and to help the newly established Christian communities across Europe understand that they were one Church.

"That's what this collection is about. It's about the direct services, it's about the works of evangelization, but it's also about us being bound together in the family of Christ, realizing that we have responsibilities for each other and that we must take care of each other," the cardinal said.

Following the homily, Father Marc Bishop, pastor of the Catholic Parishes of Arlington, invited parishioners to fill out the Catholic Appeal envelopes in their pews, which they could then place in the collection baskets during the offertory.

The Mass was followed by a reception in the Arlington Catholic High School library.