Massachusetts churches claim victory in religious freedom lawsuit
---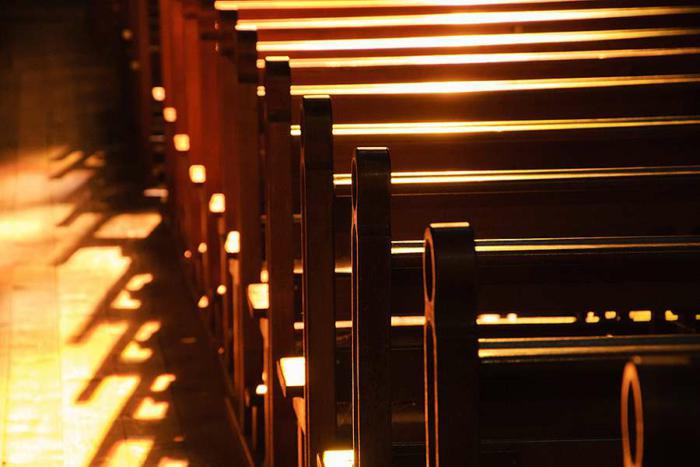 Church pews. Photo credit: Elena Dijour Shutterstock CNA
Help us expand our reach! Please share this article
Washington D.C., Dec 15, 2016 CNA/EWTN News.- Four Massachusetts churches pulled their lawsuit against the state Monday after they received religious exemptions from the state's transgender law.

"The government can't encroach on the internal, religious practices of a church. The language revisions that our lawsuit prompted should ensure that doesn't happen," Alliance Defending Freedom senior counsel Steve O'Ban stated on Monday, after the lawsuit was withdrawn.

"The comments of commonwealth officials gave these churches reason for great concern, and so we are pleased wording changes have been made to respect the constitutionally protected freedoms these congregations and pastors have," he added.

In July, Massachusetts added "gender identity" to its list of classes protected against discrimination.

Then, the state's attorney general and its anti-discrimination commission interpreted the law to say that everyone had to have access to facilities like bathrooms based upon the gender they presently identify with, and not upon their birth gender.

Church facilities that held any non-religious events like spaghetti dinners would be considered public accommodations and would have to comply, they said, despite their religious beliefs.

Churches also could have faced action by the government if their pastors preached religious views on sexuality that opposed the gender identity anti-discrimination protection, Alliance Defending Freedom noted.

Those not complying with the law could have been punished with $50,000 fines and up to a year in jail.

Four Christian churches challenged the action in a district court, in October. They said the state legislature and anti-discrimination commission "failed to provide an exemption for religious institutions" and did not clearly define the standard they would use to determine if a church would be exempt from the law – "other than the woefully inadequate and confusing 'spaghetti supper' test."

Rather, the commission said they would judge religious exemptions "on a case-by-case-basis," ADF claimed in its complaint, adding that thus, "a pastor, other church leader, or a court must guess as to which of the church's activities subject it to the severe sanctions of the Act."

"All events held at a church on its property have a religious purpose, and the government has no authority to violate the First Amendment's guarantees of freedom of religion and speech," Christiana Holcomb, legal counsel with Alliance Defending Freedom, stated.

A move to have a voter referendum on the law in 2018 received enough signatures to be on the ballot, but a poll from May showed a majority of respondents in favor of the law.

Then in a Nov. 7 letter, the state announced that it had changed its guidance on the rule and would not be including "houses of worship" among the "public accommodations" that would be subject to the law.

"Your lawsuit caused us to focus on these issues and to make this revision to our website. Thank you for bringing the issue to our attention," the state attorney general's office said in the letter to ADF.

"No church should fear government punishment simply for serving its community consistently with its faith," Holcomb stated.

"Massachusetts officials made the right decision to respect these churches' freedom of religion and speech."