Cathedral stained-glass window broken
---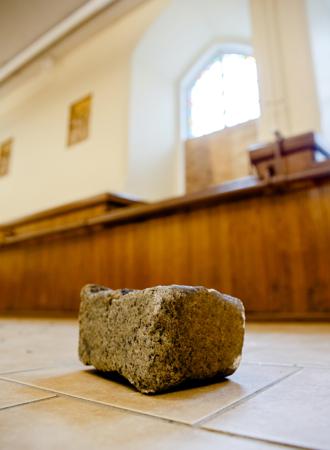 The cobblestone used to smash a window sits on the floor of the lower level of the cathedral Sept. 23. Pilot photo/Gregory L. Tracy
Help us expand our reach! Please share this article
SOUTH END -- A stained-glass window in the Cathedral of the Holy Cross in Boston was smashed Sept. 21 after an unidentified person threw a large stone through it.

The window, depicting a cross, had multi-colored panels and was an original to the 19th century cathedral.

Tim McGuirk, communications consultant for the cathedral, estimated that it will cost around $3,000 repair.

He said it's a "difficult situation," because the window was cleaned and sealed against rain and snow as part of the recent effort to clean and renovate the cathedral's exterior.

The damage occurred after business hours, and McGuirk said that a witness saw what looked like a middle-aged man hurl a rock through the window, which was on the lower level of the cathedral. The witness described the man as appearing "very unstable."

The rock looked like a large cobblestone, and appeared to be "really heavy," said McGuirk.

After breaking through the window, "the rock came to rest probably about 10 feet in the room, to give you a sense of how hard it was thrown," he said.

The window has been boarded up, and police are investigating the incident.