The growth and challenges of the Church in Cuba
---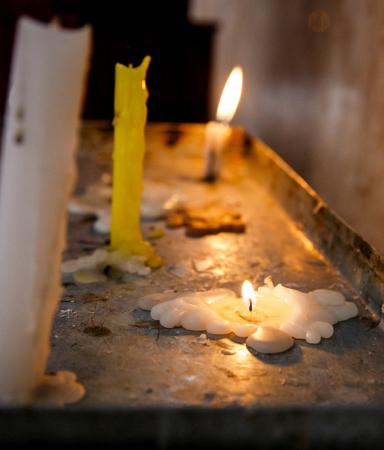 Votive candles burn the cathedral of Santa Clara, Cuba. In recent years the Cuban people have begun to return the practice of the Catholic faith. Pilot photo/Gregory L. Tracy
Help us expand our reach! Please share this article
To understand the Church's current situation in Cuba, one needs to look at the early days of the revolution.

"I remember that time," recalls Laura Perez. Speaking in her native Spanish from her apartment in West New York, N.J., the 79-year-old reminisced about her days in Cuba, "What we didn't know then actually did come back to hurt us."

Beginning in 1961, Castro created the People's Socialist Party. Four years later, it would be renamed to the Communist Party of Cuba.

Those who opposed Castro were silenced -- imprisoned, executed, or deported. Among those deported were close to 200 priests, mostly Spaniards ministering to the Cuban population, who had been critical of Castro's regime. By 1962, it became illegal to be Catholic and a member of the new regime.

Perez recalls the chilling effect Castro's regime had on Catholics.

She and her nine siblings were raised Catholic in a rural village called Manicaragua where there was no church.

Perez and her family moved to Havana when she was 13. "That was the first time I was able to go to Mass every week," she says. "I did my First Communion at the Church of San Francisco. It was such a beautiful church."

"Fidel took that, broke all the statues and turned it into a museum," she adds bitterly.