Twiss receives Grey Nuns' humanitarian award
---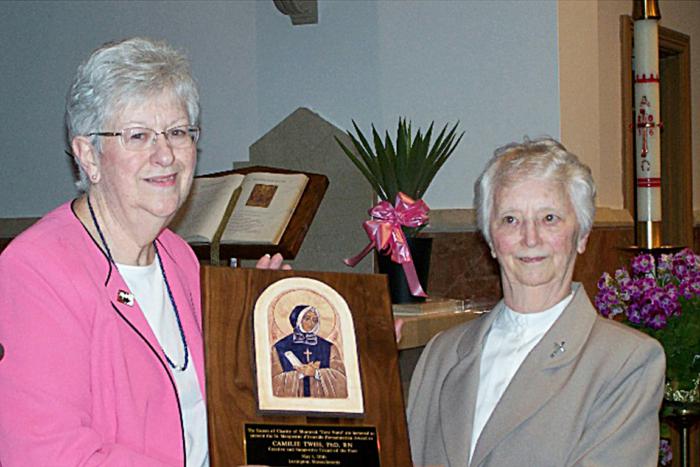 Camilie Twiss, PhD, RN and Sister Jeanne Poor, SGM. Photo courtesy/Sisters of Charity of Montreal
Help us expand our reach! Please share this article
Lexington -- The Sisters of Charity of Montreal, "Grey Nuns," presented their 18th St. Marguerite d'Youville Humanitarian Award to Camilie Twiss, PhD, RN, at Youville Place in Lexington, May 1. The Sisters honor their foundress St. Marguerite d'Youville by bestowing this award on individuals they feel best exemplify her values and mission.

St. Marguerite (1701-1771) spent a lifetime in service to the poor in Montreal, facing every new challenge with action, courage and compassion. She was proclaimed a saint in 1990. The award consists of an icon of St. Marguerite which today bore the inscription: "Camilie Twiss, PhD, RN -- Creative and Supportive Friend of the Poor."

The chapel was filled with joyful greetings and conversation among the numerous personal invitees of Twiss: her family, many friends, several Associates of St. Marguerite d'Youville, some residents as well as the Grey Nuns and their guests.

The award program included a prayer prepared by Sister June Ketterer, SGM.

In her welcoming remarks, Sister Jeanne Poor, SGM, area coordinator, praised Twiss on her rich and compassionate life as a committed Christian, devoted and faithful wife, loving and kind mother of two, and now an adored grandmother.