Jubilee pilgrimage reaches 'out to the sick and to the suffering'
---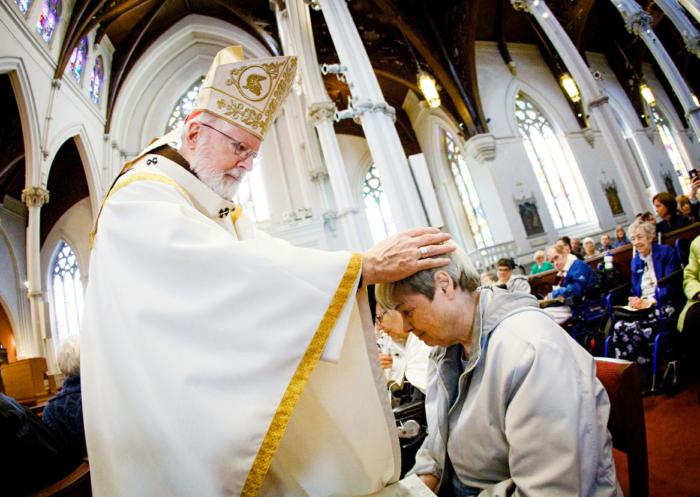 Cardinal O'Malley lays his hands on those receiving the Sacrament of the Sick at the Pilgrimage and Mass for the Sick and their Caregivers April 24. Pilot photo/Gregory L. Tracy
Help us expand our reach! Please share this article
SOUTH END -- As part of the Jubilee Year of Mercy, Cardinal Seán P. O'Malley presided at a Pilgrimage and Mass for the Sick and their Caregivers at the Cathedral of the Holy Cross, April 24.

The Mass was organized by the Cardinal's Office, the Cathedral of the Holy Cross, the Order of Malta, St. John's Seminary and the Archdiocesan Office of Chaplaincy Programs.

"Today, we'll celebrate the anointing of the Sacrament of the Sick. Jesus' great ministry in the Gospel is to the sick. Jesus is constantly reaching out to the sick and to the suffering. And today, it is Jesus who anoints our brothers and sisters with the oil of gladness. May this anointing bring strength and spiritual healing into the lives of those being anointed, and to all of us who witness this sacrament," the cardinal said in his homily.

"May it be a reminder that we are all one body in Christ, that we are called to love each other in such a special way, that the love that we have for each other will be a reflection of how much the Lord loves all of and cares for all of us," he continued.

The Liturgy of the Anointing began with a litany, after which Cardinal O'Malley and cathedral rector Father Kevin J. O'Leary, laid their hands on the head of each sick person.