Cardinal celebrates campus ministry confirmations at cathedral
---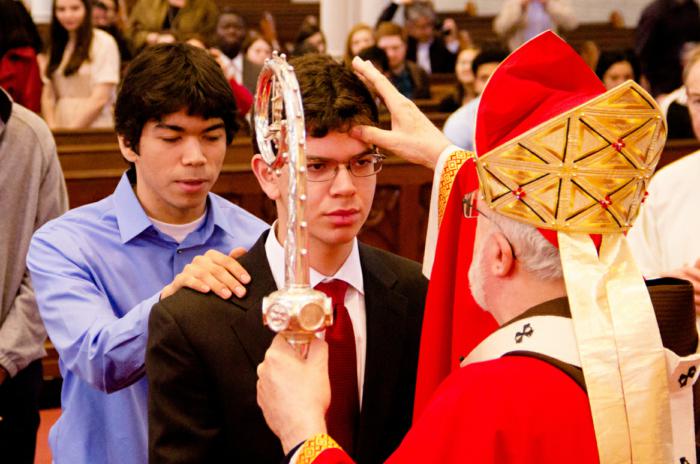 Cardinal O'Malley anoints MIT student John Bell with Sacred Chrism during the celebration of confirmation with campus ministries April 16 at the Cathedral of the Holy Cross. Pilot photo/Mark Labbe
Help us expand our reach! Please share this article
SOUTH END -- Harvard University student Russell Pekala said he wanted more than what the clubs at Harvard had to offer.

He said he felt the other organizations were "focused around individualistic goals." He sought something that focused on wide-ranging goals and morality, and found what he was looking for in the Catholic Church.

He decided to be confirmed, and was alongside about 30 others during a Mass celebrated by Cardinal Seán P. O'Malley at the Cathedral of the Holy Cross in Boston, April 16.

Like Pekala, each person receiving confirmation was connected to the campus ministry of a local college or university, including: Harvard University, University of Massachusetts Lowell, Wellesley College, Northeastern University, Emmanuel College, Bridgewater State University, Massachusetts Institute of Technology, and Boston University were represented.

The archdiocese's Director of Campus Ministry, Msgr. William Fay, told The Pilot that the Mass was, "an opportunity for college students, who for one reason or another, missed an opportunity in their younger years, their high school years, to receive the sacrament of confirmation. So, they would have through a period of catechesis, some training at the particular college where they happen to be do their study, through the campus ministry office."