Local groups prepare to attend March for Life
---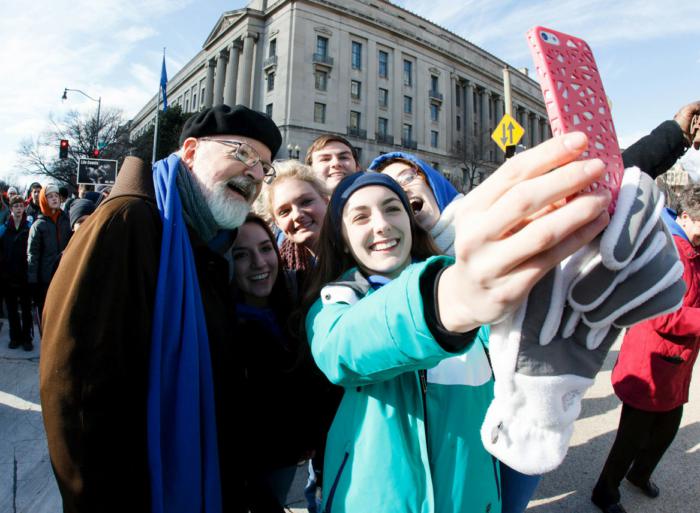 Teens take a "selfie" photo with Cardinal O'Malley at the 2015 March for Life in Washington D.C. Pilot file photo/Gregory L. Tracy
Help us expand our reach! Please share this article
BRAINTREE -- Hundreds of people, many of them youths and young adults, from the Archdiocese of Boston are preparing to attend the 42nd annual March for Life in Washington, D.C., Jan. 22, joining Cardinal Seán O'Malley on a pilgrimage to witness the sacredness of human life.

Over 500 people registered with the Office for the New Evangelization of Youth and Young Adults (ONE) for the event, and the archdiocese will be busing many of those registered to Washington, D.C. on Jan. 21.

Those registered through ONE will travel in four groups, called tracks: middle school students, high school students, young adults, and families. This is the first year that the family track has been available.

The itineraries for the middle school and high school tracks include a Life is Very Good Rally at George Mason University on Jan. 21, Mass at the Shrine of the Sacred Heart and the march on Jan. 22, and Mass at the University of Maryland Chapel on Jan. 23. Other activities, including sightseeing, are scattered throughout the schedule.

An annual tradition, Cardinal O'Malley will celebrate the Mass at the Shrine of the Sacred Heart, and all pilgrims from the Archdiocese of Boston who attend the March for Life will be invited to join him.

The cardinal is also scheduled to concelebrate the Vigil Mass for Life held at the Basilica of the National Shrine of the Immaculate Conception the evening before the march.