'North Pole Express' treats children, supports North Andover Catholic school
---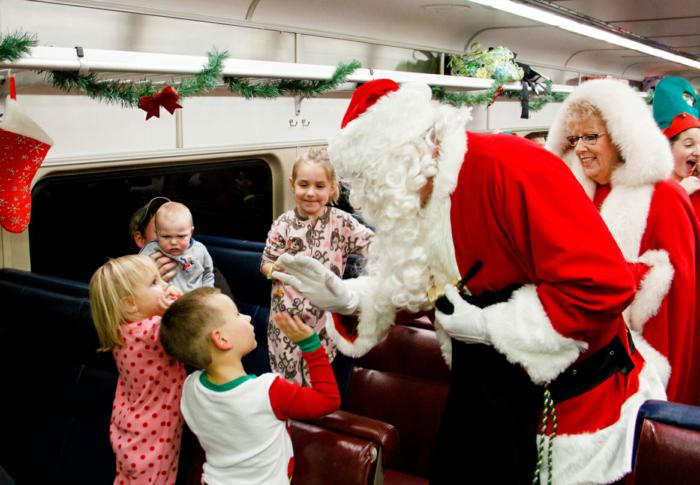 Santa and Mrs. Claus greet children aboard the North Pole Express train ride to support St. Michael School in North Andover Dec. 12. Pilot photo/Mark Labbe
Help us expand our reach! Please share this article
NEWBURYPORT -- Hundreds of children and parents boarded the North Pole Express on Dec. 12 in an event to support St. Michael School in North Andover that featured crafts, cookies, and visits from Santa, Rudolph, Frosty, and other iconic Christmas figures.

Sponsored by the St. Michael School PTO board, the ninth annual North Pole Express event saw about 2,800 people enter a decorated commuter train at the Newburyport MBTA station during four separate departures that took passengers to "the North Pole."

Once on the train, passengers were given cookies and participated in holiday trivia games as Christmas songs played across the train's six cars. The children aboard the train, dressed in pajamas, danced in the aisles and eagerly awaited the moment when they would reach the North Pole and Santa would come aboard.

After about 30 minutes into the ride, the train stopped and passengers were instructed to look out the window for a chance to glimpse Santa. Only a few minutes later and the train began moving again, heading back to the Newburyport station with Santa, Mrs. Claus, Rudolph, Frosty, and dozens of elves on board.

The figures greeted the passengers and took pictures with them on the ride back to the station.

Kimberly Jaworski, a receptionist at St. Michael School and a volunteer at the event, told The Pilot that the elves, dressed in green and red clothes with tall hats, were played by the school's 8th graders.

"They look forward to that," she said. "When you're at St. Michael School, you can't do that until you're in middle school."

She noted the event is "one of (the PTO's) big fundraisers," as ticket sales from it go directly to into the "general budget of the PTO," where it is used to buy smartboards and other items to enhance the school.

Besides the activities aboard the train, participants were also able to make crafts and purchase candy at Santa's Workshop, which St. Michael created in the MBTA station.

One passenger who was there with his two daughters, noted that it was his first time at the event, but said he would "come back next year."

"It's nice. It makes it feel more like Christmas," he said, referring to the warm weather.