The Society of Jesus -- The Jesuits
---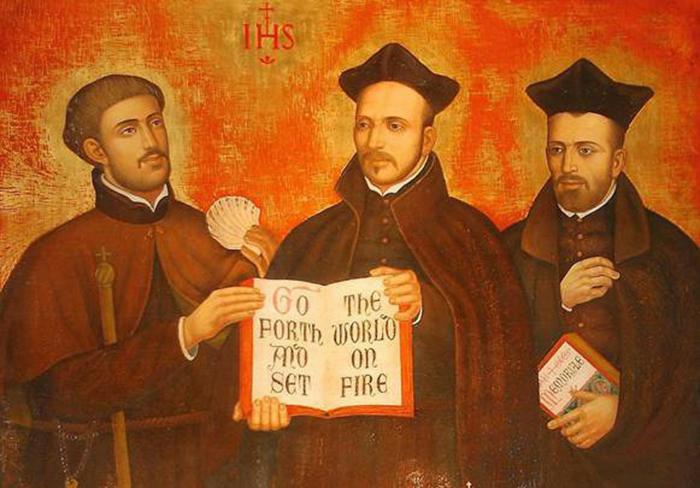 The first Jesuits Sts. Francis Xavier; Ignatius of Loyola, and Peter Faber. Courtesy photo
Help us expand our reach! Please share this article
The Society of Jesus, a Roman Catholic order of priests and brothers, was founded half a millennium ago by the soldier-turned-mystic Ignatius of Loyola. But most people call them "the Jesuits."

In the vision of their founder, we seek to "find God in all things." They dedicate themselves to the "greater glory of God" and the good of all humanity. And do so gratefully in collaboration with others who share their values, including laypersons. They have become part of the "we," the extended Jesuit family.

With close to 17,000-plus priests and brothers worldwide, we are the largest male religious order in the Roman Catholic Church. We are pastors, teachers, and chaplains. We are also doctors, lawyers, and astronomers, among many other roles in Church and society. In our varied ministries, we care for the whole person: body, mind, and soul. And especially in our education ministries, we seek to nurture "men and women for others."

Jesuits draw on the rich tradition of Ignatian spirituality and reflection. In our retreat centers, parishes, campus ministries, and other settings, we offer these resources to all who want to discern God's presence in their lives. At the same time, we also aim to be "contemplatives in action," people who bring this spirituality into the wide world. That includes our work on behalf of global justice, peace, and dialogue.

Four Vows

As members of a religious order, Jesuits take three vows -- of poverty, chastity and obedience -- and a fourth vow of obedience specifically in regard to worldwide mission. In other words, Jesuits must be ready to accept whatever mission the pope requires, a vow that is reflective of our broader dedication to the universal Church, and to the greater good of all people from all faiths and cultures.

Our collaboration with the laity flows from our personal relationships with Christ. We see ourselves as companions of Jesus, and we invite others to join with us, as friends in the Lord. Together we build up the body of Christ.

With our friends and partners, we also reach out to a broadly diverse world because that's where God is. From experience and reflection, we know that meaning, value, and divine purpose can be discovered "in all things."

One Mission, Many Ministries

Jesuits are widely known for their colleges and universities, as well as high schools. And that's no surprise. Education is a cornerstone of the Society of Jesus, and has been since the late 1540s, when Jesuit schools began spreading through Europe.

But names like "Georgetown" and "Gonzaga" and "Marquette" do not tell a full story of Jesuit ministries. The works are far broader in scope, extending from middle schools in the inner city to refugee camps near Iraq, from retreat houses with an ocean view to parishes next door to college campuses. Jesuits -- together with their lay collaborators -- are called to these and many other ministries.

In his message to the 35th General Congregation of Jesuits in 2008 (known simply as "GC 35"), Pope Benedict XVI declared: "The Church needs you, counts on you, and continues to turn to you with confidence, particularly to reach the geographical and spiritual places where others do not reach or find it difficult to reach."

During the first days of his papacy, in March 2013, Pope Francis added his heartfelt prayers. The first Jesuit pope asked that the Lord "illuminate and accompany all Jesuits" along these paths.

Geographically speaking, Jesuits serve where needs are greatest -- from underserved neighborhoods in East Los Angeles to schools in Micronesia. They and their many collaborators are involved in myriad international works through such flagship organizations as the Jesuit Refugee Service.

Spiritually speaking, Jesuits and their friends are ministering to people in the hard-to-reach places of the heart. They are doing so as military chaplains, helping soldiers find meaning far from home; as prison chaplains, accompanying those behind bars in a journey of reconciliation; as hospital chaplains, praying for healing together with patients and families; and in many other pastoral settings.

Ministry's Frontiers

The followers of St. Ignatius Loyola are also exploring the frontiers of mission and ministry.

"Thus as this world changes, so does the context of our mission; and new frontiers beckon that we must be willing to embrace," the Jesuits declared at their 2008 General Congregation. This spirit is finding expression, for example, in the recent phenomenon of Jesuit middle schools in hard-pressed urban neighborhoods of the United States. Other examples include interreligious dialogue in countries torn by religious violence, and the struggle for environmental justice.

Archdiocese of Boston

Jesuits had been serving in New England before the establishment of the diocese of Boston in 1808, principally in missions in Maine. The second bishop of Boston, Benedict Joseph Fenwick, SJ, was a Jesuit. Over the years our presence both grew and changed. Today our ministries in the archdiocese include Boston: Boston College High School, Loyola House, Nativity Prep; Gloucester: Eastern Point Retreat House; Newton: Boston College, St. Ignatius of Loyola Parish; Weston: Campion Center.