Obituary: Msgr. Francis G. O'Sullivan, former director of Catholic Charities and pastor
---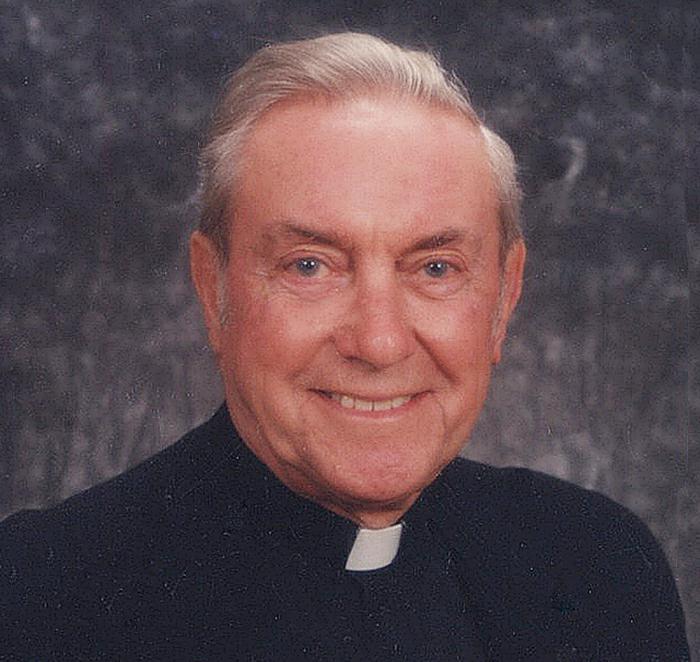 Msgr. Francis G. O'Sullivan Pilot file photo
Help us expand our reach! Please share this article
"Frank once had a three handicap." A quick memory of one of his priest friends when he heard about the death of Msgr. Francis G. O'Sullivan on Nov. 27. He died at Winchester Nursing Home where he had moved recently from Regina Cleri Residence in Boston.

Golf was not the only thing at which the Woburn native excelled in his life. Born in the Tanner City on June 13, 1923 he was one of the two children of the late Jeremiah and Mary (Hawkins) O'Sullivan; his sister Jeanne McCarthy of Burlington is his immediate survivor.

Raised in the strong Irish Catholic family and St. Charles Borromeo Parish, Frank attended the parish school, and then trekked into the "old BC High" in the South End for high school. Following graduation he went west to Worcester to the College of the Holy Cross for two year before entering St. John Seminary.

Archbishop Richard Cushing ordained him to the priesthood on May 1, 1947 at Holy Cross Cathedral and gave him his first assignment as an assistant at St. John the Baptist, Peabody. A little more than two years late he was assigned as an assistant at St. Joseph Parish, Somerville.

In July 1952 he was named Director of the Somerville office of Catholic Charities where he would serve until 1975; during this time he was also the chaplain for the Home for the Aged, now Jeanne Jugan Residence, in Somerville. At the same time, he obtained his master's degree in Social Work from Boston College.

In October 1975, Humberto Cardinal Medeiros appointed him to what would be a seven year stint as Archdiocesan Director of Catholic Charities, directing the offices and bringing a new professionalism to the Catholic Charities office. He also expanded the fund raising and development activities of Catholic Charities across the archdiocese. While serving in this position he lived at St. Francis of Assisi Rectory in Medford.

Following his 30 years of service to Catholic Charities and in preparation for return to parish life, he went on a six month priestly renewal program to the Vatican II Institute at St. Patrick Seminary, Menlo Park, Calif.

In January 1994, Bernard Cardinal Law named him pastor at St. Joseph Parish in Wakefield, where he succeed a friend and golfing partner, the late Father Edward Gillis.

He served the Wakefield parish for two terms, retiring in June 1995 when he became a senior priest and returned to where he had started, St. John the Baptist, Peabody as senior priest in residence. In addition to the affection that parishioners still had for him after three decades, he also wanted to be closer to Salem Country Club, just about three miles from the rectory in Peabody. It was at Salem (and other courses) that Frank had worked to the "three handicap."

With the departure of Bishop Roberto Gonzalez, OFM to Corpus Christi as coadjutor bishop in 1995, Cardinal Law asked Frank to become interim regional vicar for the West Region of the archdiocese which he readily accepted. He would have that position for a bit more than a year when Bishop Emilio Allue, SDB was named an auxiliary of the archdiocese and regional bishop in the West Region.

Pope John Paul II named him a prelate of honor with the title of Rev. Msgr. on Dec. 13, 1995.

Frank returned full time then to Peabody as senior priest and to Salem as one of a trio of priest members of that country club. He was very popular with the other members often invited to celebrate weddings and baptism and other events with and for the families of club members.

He remained at Peabody until 2013 when he moved to Regina Cleri Residence; he was briefly a resident at another familiar place, Jeanne Jugan, Somerville. His health declined rapidly in the past few weeks and he was moved to Winchester Nursing Home where he died.

Merrimack Regional Bishop Robert Hennessey was the principal celebrant of Msgr. O'Sullivan's Funeral at St. John the Baptist, Peabody on Dec. 2. Father Paul Clifford who had been parochial vicar at Wakefield with Msgr. O'Sullivan was the homilist. Following the Funeral Mass Msgr. O'Sullivan was buried in Calvary Cemetery, Winchester.

In one of those interesting coincidences of history or fate, Msgr. O'Sullivan died on Nov. 27, 2015, the tenth anniversary of the death of Msgr. Frederick R. McManus -- the two were classmates at Boston College High School; at the College of the Holy Cross and at ordination on May 1, 1947 at Holy Cross Cathedral.