Cardinal rededicates renovated Dorchester Catholic school
---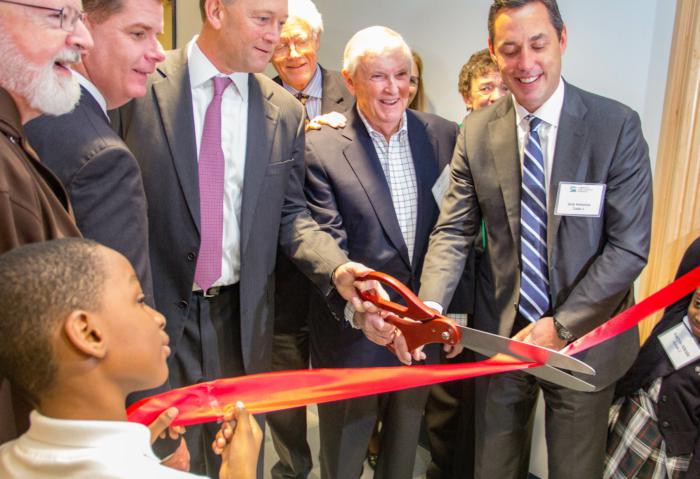 Campaign for Catholic Schools chairman Jack Connors cuts the ribbon at the St. John Paul II Catholic Academy Lower Mills campus in Dorchester Dec. 2. Pilot photo/ Mark Labbe
Help us expand our reach! Please share this article
DORCHESTER -- Cardinal Seán P. O'Malley, Boston mayor Martin J. Walsh, and other prominent members of the community attended and spoke at a rededication ceremony for the Dorchester Lower Mills campus of St. John Paul II Catholic Academy that celebrated the campus's recent renovation.

The third building to be renovated as part of the academy's four-campus school, the $10 million renovation of the Lower Mills building was funded through efforts led by the Campaign for Catholic Schools (CCS) and a volunteer committee of business leaders.

The renovations made to the building not only improved the school's art room, music room, science classroom, and media center, but also added new technology to the building, including new heating and security systems, as well as projectors and smartboard systems.

The building is located at the site of the former St. Gregory School, which became the Lower Mills Campus of St. John Paul II Catholic Academy in 2008, when the academy was created. The building was originally built in 1915 and has a 1960s addition.

It will reopen to its 326 students on Jan. 4, 2016, after furniture has been set up and staff members have been trained in the school's new technology.

At the rededication ceremony, which took place in a dining room of the school, CCS chairman Jack Connors welcomed the many people in attendance, thanking all those who helped complete the renovation.

He then introduced Cardinal O'Malley, who said a prayer and noted the importance of Catholic education.

"Our Catholic schools continue their mission to train young people from immigrant families, from working class families, giving them an opportunity in life... Catholic education is a great gift to the whole community, but it can only exist because of the generosity and the commitment of all of you," he said.

Other officials, including Mayor Walsh, CCS trustees Jack Sebastian and Bob Atchinson, and St. John Paul II's regional director Sister Ellen Powers, CSJ, also gave remarks at the event.

Mayor Walsh spoke of his own Catholic education, and thanked those involved in the renovation, giving a special nod of recognition to Cardinal O'Malley.

"You certainly have taken this archdiocese through troubling times, keeping your eye forward all the way, and today is one of those results that we can look back and say, you've truly done a beautiful, blessed job, so thank you very much," Mayor Walsh said to the cardinal.

Seventh-grade student, Orianeh Byron-Gabelus also shared with guests how much her Catholic education has benefitted her.

"This school is one of the best things that has ever happened to me. I value my Catholic education because I learn how to be the light of Christ in my words and actions," said Byron-Gabelus, who noted that she will likely be attending a Catholic high school and later wants to become a doctor.

After the speaking program, people made their way into the foyer, where Cardinal O'Malley blessed the school. Afterwards, officials, led by Connors, participated in the ribbon cutting ceremony.

The Lower Mills campus is the sixth building to be renovated by CCS since 2007, when the organization was launched. At that time, Cardinal O'Malley called upon Connors to create CCS to reform Catholic schools, and the organization now partners with local community leaders to help improve struggling Catholic elementary schools.