Social Justice Convocation focuses on message of Laudato Si'
---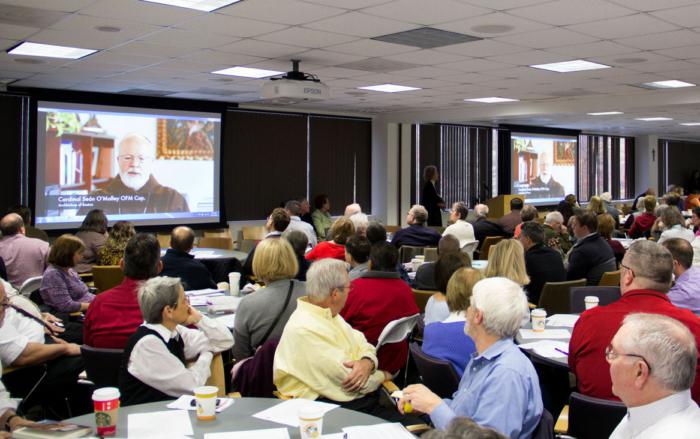 Cardinal O'Malley delivers a prerecorded greeting to the sell-out crowd at the Archdiocesan Justice Convocation Oct. 24. Pilot photo/Mark Labbe
Help us expand our reach! Please share this article
BRAINTREE -- The seventh annual Archdiocesan Justice Convocation, themed "Care of our Common Home: Welcoming Immigrants/Refugees and Promoting Environmental Stewardship," Oct. 24, offered discussions on social justice issues highlighted in the 2015 encyclical of Pope Francis, "Laudato Si'."

The day's featured keynote speaker, Dr. Carolyn Y. Woo, president and CEO of Catholic Relief Services, highlighted the encyclical's environmental themes in her address, entitled "Role of the Catholic Church in promoting Gospel Justice for the Environment."

Woo began her talk with a video that featured Pope Francis' announcement of the new encyclical, and then offered an interpretation of the encyclical by Father Michael Perry, the minister general of the Order of Friars Minor. In the video, Father Perry said the encyclical focuses on how all life is connected, and how it is our duty to help those in need and care for the environment.

Woo went on to explain the unique way she thinks of the pope's message.

"I actually think of it as a love song... [It says] I give you my love, and you dismiss it. I give you my heart, and you gave it to somebody else. I gave you my best work, and you didn't cherish it. I love you for who you are, but you've forgotten who you are," she said.

Woo said that we, as the human race, need to do more when addressing climate change and other environmental issues. One of the ways we can do that, she said, is through economic growth in alternative energy fields. Dr. Woo explained that by investing in clean energy, everyday people can help combat pollution and environmental issues.

The keynote address by Father J. Bryan Hehir, cabinet secretary for Health and Social Services, focused on the other major theme of "Laudato Si'"; immigration.

In his talk, "Role of the Catholic Church in Promoting Gospel Justice for Refugees and Immigrants," Father Hehir said it is important to remember that even after present crises are resolved, we should not put immigration out of our minds.

"In a globalized interdependent world, immigration is a theme, not a passing crisis. Hopefully, we deal with crises, but when there's not a crisis, there is still immigration that needs to be addressed," Father Hehir said.

He continued by saying that at this time, the world doesn't deal with immigration in the way it should be addressed. He explained that in the political arena, there is an "open space" where immigration should sit. In order to truly begin conversations on immigration issues, that space needs to be filled, and politicians need to begin focusing on ways to deal with those issues.

Father Hehir concluded his address noting that "we are an immigrant Church," and it is our responsibility to be hospitable towards immigrants and offer to integrate them into our communities.

Following the keynote addresses, a networking session was held, and audience members were able to interact with each other and a large variety of Catholic vendors.

The conference's plenary session, entitled "Doing Gospel Justice through Parish Small Faith-Sharing Groups," was hosted by Sister Theresa Rickard, president and executive director of RENEW International.

During the session, Sister Theresa spoke about the importance of evangelization, especially in reference to community-based faith-sharing groups.

"A powerful and proven way -- and many of you have experienced this -- to gather around critical issues of faith are small groups... Small faith-sharing communities need to be certainly fathered around God's word, personal support, but most importantly, they're also calling us to be sent, sent out to our communities and our world to bring God's healing message," Sister Theresa said.

She went on to say that mission is one of the most important aspects of small faith-sharing groups, and, in fact, "mission needs to permeate everything we need in these small groups."

Sister Theresa then allowed audience members to discuss with each other in groups what they could do in their own parishes to address environmental and immigration issues. At the end of the plenary session, Sister Theresa had people share their ideas with the entire audience.

The convocation concluded with Mass in the Pastoral Center chapel celebrated by Father Hehir with music provided by members of the Estudiantina y Danza Troupe.