Professionals educated on palliative care at Pastoral Center
---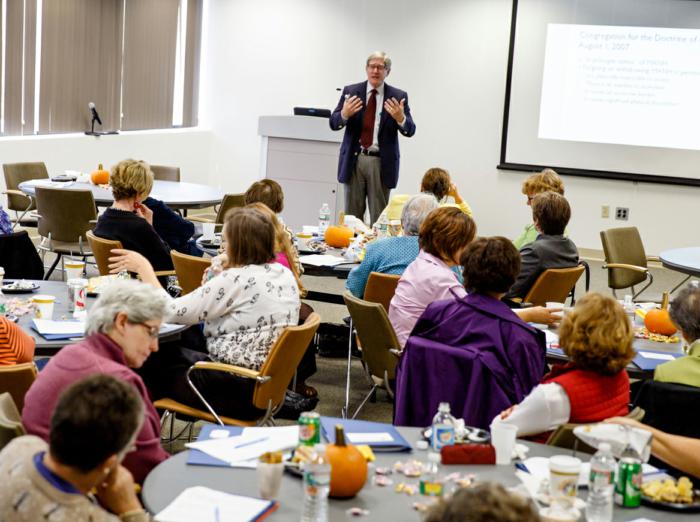 Chief healthcare ethicist for the archdiocese Peter J. Cataldo addresses the Train-the-Trainer: Palliative Advance Care Training session held at the Pastoral Center Oct. 14. Pilot photo/Gregory L. Tracy
Help us expand our reach! Please share this article
BRAINTREE -- Several dozen professionals, including doctors, nurses, social workers, and chaplains, gathered at the archdiocese's Pastoral Center Oct. 14 for the Train-the-Trainer: Palliative Advance Care Training event.

During the event, MC Sullivan, director of the Initiative on Palliative Care and Advanced Care Planning for the archdiocese, and chief healthcare ethicist Peter J. Cataldo addressed a larger than expected audience of around 70 people about the benefits of palliative care, the Catholic Church's view on it, and how it can be used as an alternative measure to physician-assisted suicide.

Following the event, Sullivan spoke with The Pilot about the importance of palliative care.

"Palliative care is a model of care for people who have serious illness... it looks to serve and take care of the patient's needs to address the concerns the family network that support the patient and really to help the care team feel better about themselves," she said.

Sullivan noted that palliative care addresses the different needs in people's lives, including needs in "the physical area, the psychological and social areas, in the emotional area, and, very importantly, in the spiritual area of people's lives."

The goal of the Train-the-Trainer event, Sullivan explained, was to get people interested in palliative care and to allow them to tell others in their parishes and in their communities about it.

When asked about the recent legalization of physician-assisted suicide in California, Sullivan said the palliative care community is "heartsick" over it. She explained that physician-assisted suicide has no place in conversations right now, as palliative care hasn't yet gotten the attention it needs in settings outside of hospitals, like nursing homes.

"We've got to really up our game in the real world where people live and suffer with their illnesses, and until we do that, physician-assisted suicide really has no business being on the table... The reason for that is because physician-assisted suicide doesn't contribute to the common good, and public policy is meant to contribute to the common good," explained Sullivan.