Philly pilgrimage fulfills dream for Waltham parishioner
---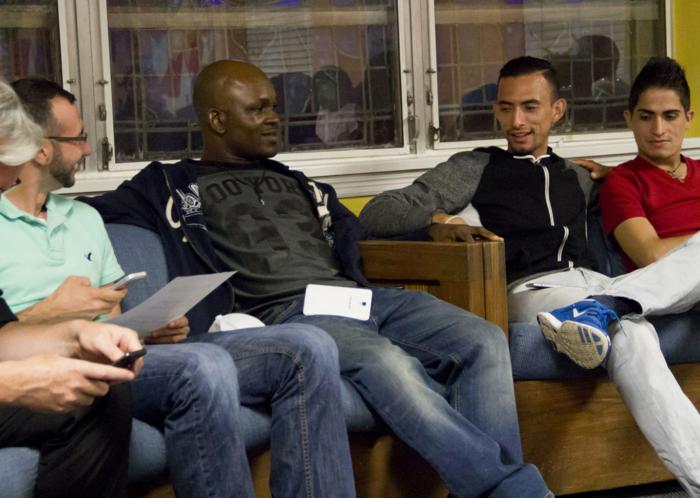 Ben Nyombi, left, a parishioner from St. Mary's Parish in Waltham, tells fellow pilgrims on the trip how seeing the pope in Philadelphia fulfilled a life-long wish. Pilot photo/Christopher S. Pineo
Help us expand our reach! Please share this article
CAMDEN, N.J. -- For 32-year-old Ugandan native Ben Nyombi a 300-mile drive and a six-mile walk to see Pope Francis in Philadelphia completed a goal he had held in prayer and mind for 22 years.

Shortly after a group of 21 pilgrims from St. Mary's Parish in Waltham and their priest, Father Michael L. Nolan, arrived at the Romero Center on the grounds of St. Joseph Pro-Cathedral in Camden, N.J., Nyombi told the story of his anticipation over the years. He shared further details with The Pilot later.

The visit of Pope St. John Paul II to Uganda in 1993 sparked an ambition in the mind of then 10-year-old Nyombi in his hometown Semuto in the Central Region of Uganda, but it was not to be.

"I was so young. My parents never had a car, so my dad never took me to the cathedral to see the pope," he said.

Having started working as a sports journalist by 2003, Nyombi followed the news closely when Pope St. John Paul II was hospitalized for the last time in 2005.

"I was a journalist, so I would go to the office and write my story -- I was a sports reporter -- then watch TV. What's the updates? See the updates. Go home, what's the updates? John Paul died, so it was like my dream of seeing the pope had gone," he said.

Temporarily assigned as a religion reporter, he cried at the Mass celebrated at his local cathedral before the bishop headed to Rome for the funeral.

After prayers for the intercession of the Blessed Mother in 2011 on his intention to immigrate, Nyombi came to the United States within a matter of months.

He kept his goal in mind, and recalled frequent prayers for the intercession of Mary.

When he learned that his parish in Waltham was organizing a trip to Philadelphia for Pope Francis's visit during the World Meeting of Families, he signed up.

On Sept. 26, after a long walk from Camden over the mile-long Ben Franklin Bridge into the city, and waiting about five hours, he saw the flashing lights of the police escort just before the Popemobile passed in front of him at Benjamin Franklin Parkway. His ambition was fulfilled as he set eyes on Pope Francis.

The next day at the parkway, he saw the pope again and attended Mass celebrated by the Holy Father. He said the feeling was more than he could put into words and thanked the pilgrims he traveled with and the priest who organized the trip.

"I just can't thank God enough. Oh, I just can't thank Mother Mary enough, because I feel through Mother Mary, God has answered each of my prayers," he said.