East Boston students 'Joke with the Pope' to support missions
---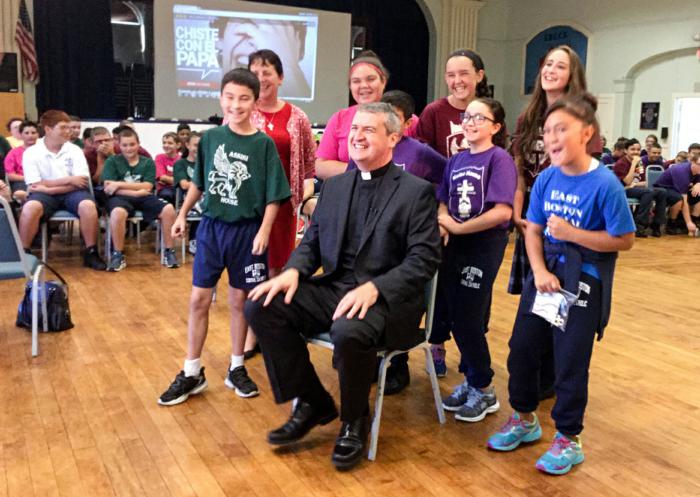 National director of the Pontifical Mission Societies Father Andrew Small, OMI records a "Joke With the Pope" video at East Boston Central Catholic School, Sept. 15. Pilot photo/courtesy Pontifical Mission Societies
Help us expand our reach! Please share this article
EAST BOSTON -- The Pontifical Mission Societies in the Archdiocese of Boston held their local kickoff for the "Joke with the Pope" campaign at East Boston Central Catholic School, Sept. 15.

The international campaign encourages participants to "donate" a joke in support of one of three Pontifical Mission Societies causes -- to help children in need in Buenos Aires, Argentina; to house the homeless in Addis Ababa, Ethiopa; or feed the hungry in Nairobi, Kenya.

The local kickoff gave first-graders through eighth-graders at the school the opportunity to feature their comedic stylings against the likes of comedian Bill Murray and late-night talk show host Conan O'Brien, who have already recorded and uploaded their jokes, to be featured at jokewiththepope.org.

The campaign is meant to promote the Missio App of the Pontifical Mission Societies. Jokesters are encouraged to download the app, which allows users to explore various causes, donate to specific projects, and directly support the work of the missions around the globe.

Students told their jokes to an audience of sixth, seventh and eighth-graders, and teachers judged the contest. One student from each grade was chosen and joined with three student mission representatives to record the jokes on video for upload.

Winners and the three student representatives recorded their jokes with the help of George M. Martell of Boston Catholic Development Services. Those who did not win were encouraged to "donate" a joke on their own time.

Pontifical Mission Societies in the United States National Director Father Andrew Small, OMI, spoke with the students about what a missionary is during the event.

"What does missionary mean?" he asked.

"You preach the word of the Gospel," one student answered.

Father Small agreed and said that the mission of all Christians is to let people know all over the world that God loves them. He exempted no one from that work.

"If you've been baptized, you're a missionary," Father Small told the students.

The Pontifical Mission Societies include the Society for the Propagation of the Faith, the Missionary Childhood Association, the Society of St. Peter Apostle, and the Missionary Union of Priests and Religious and -- under the direct canonical jurisdiction of the pope and all Catholic bishops -- remind the faithful of the baptismal call to mission, gather basic support for the missions throughout the world, and support more than 1,150 mission dioceses in Asia, Africa, the Pacific Islands and Latin America.

Pontifical Mission Societies in Boston chose East Boston Central Catholic to host the local kickoff for their participation in and support of the missions around the world.

"They're really on board with the missions, and that's why we chose them to feature at our launch of 'Joke with the Pope,'" director of programs and development for the Pontifical Mission Societies in Boston Maureen Crowley Heil.