From Cardinal Seán's blog
---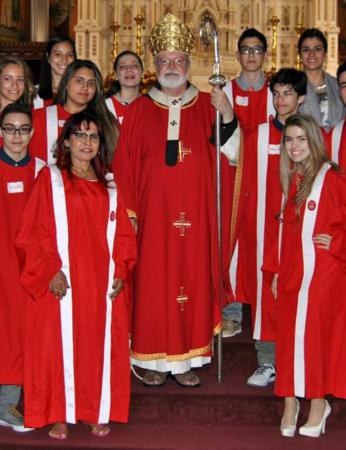 'That Sunday (5/24), we had confirmations for the Brazilian community.' Pilot photo/CardinalSeansBlog.org
Help us expand our reach! Please share this article
Last Friday night (5/22) we gathered with the deacons at the Cathedral of the Holy Cross on the eve of the ordination, to pray together, to have a meal. After that meal, I gave them their assignment letters and their faculty letters. Then the next morning at the cathedral was the ceremony itself. It was very well attended with five men being ordained to the priesthood. Ordinations are always a very important moment for the archdiocese -- a time of renewal, a time of great hope, and many priests and people filled the cathedral. We were blessed with a beautiful day. It was about 60 degrees out and sunny, which for a ceremony is perfect since the Cathedral of the Holy Cross is not air conditioned. This was the Vigil of Pentecost. I told them that they were our Pentecostal priests, because their ordination was on the vigil and their first Masses were all on the Feast of Pentecost.

Brazilian Confirmation

That Sunday (5/24), we had confirmations for the Brazilian community. Many of them came. Sister Elisete helps to organize that, and the Daughters of St. Paul filmed. It's always a wonderful event. The Brazilian community has a great sense of joy and enthusiasm. They bring their own musicians.

Capuchin meeting

The next day, the Capuchins of my province gathered the entire province together. They asked me to give a keynote on Monday (5/25), so I went on Monday and came back on Tuesday. It was wonderful to see all the friars there. I think there were about 150, and it was almost the whole province. Bishop Bill Fey, who is the Bishop of Kimbe in Papua New Guinea came. The local bishop of Harrisburg, Bishop Ronald W. Gainer, came and led us in the vespers Monday, which was very nice. It's always wonderful to see all the friars.

Newly ordained lunch

Wednesday (5/27), we had guests at the Pastoral Center. It has always been the custom here to have the newly ordained come to the Pastoral Center with members of their families for a luncheon. It is very nice, because the day of the ordination with all the people and everything we don't really have a chance to spend any time with them. At the luncheon, all of them were reporting back on their first Masses. As I said, we were very blessed with good weather for the weekend. That made it very nice for the Pentecost celebrations of their first Masses.

Pro-life directors

That day we also met with all the pro-life directors from New England. They gather here once a year. Of course, they do such wonderful work. Our pro-life director Marianne Luthin is very much involved with them. Of course, among the many topics discussed this year was that of physician assisted suicide. We are very indebted to the hard work and commitment of these pro-life directors. I'm glad that they have a support community and are able to share their ideas and resources in this very important centerpiece of our social doctrine of the Catholic Church -- the sacredness of life.

APC meeting

Last but not least we had a meeting with the APC, at which Kathy Mears, our head of Catholic Schools, gave a report on Catholic education and Father Matt Williams on the importance of ministry to youth and young adults. Then I talked to them a little bit about the Jubilee Year. It was a very good meeting.