Our Lady of Perpetual Help -- Mission Grammar School at 125
---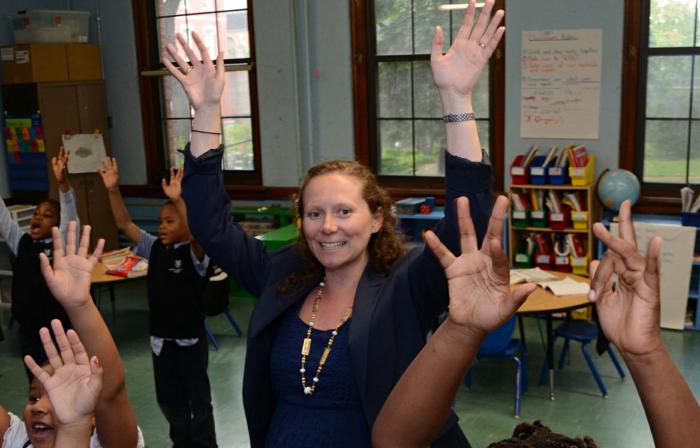 Aliece M. Dutson began her first year as principal at Mission Grammar last September. Photo courtesy/Mission Grammar School
Help us expand our reach! Please share this article
Through the vision of the School Sisters of Notre Dame and the commitment of the Redemptorist Fathers, Our Lady of Perpetual Help -- Mission Grammar School has been a leader in education in the Mission Hill neighborhood of Boston for 125 years. This year, the school is celebrating this milestone in its history with a new school leader and even a stronger commitment to ensuring the scholars are on the road to college!

Aliece Dutson, who attended Emmanuel College and then Harvard University, is the new principal of OLPH Mission Grammar School. A few years ago, Mrs. Dutson was selected for the Lynch Leadership Academy at Boston College which prepares individuals for school leadership positions. "Through my formal education at Emmanuel and Harvard as well as the Lynch Leadership Academy, I have developed my educational leadership and supervision skills to take on this new role of principal."

Each morning, Mrs. Dutson greets the students and their families with a smile, handshake and a "good morning" -- a very welcoming presence to start the day! Since 2006, Mrs. Dutson has been part of the Mission Grammar family as a teacher, school-wide literacy coordinator, and assistant principal. She is very excited at the opportunity to lead the Mission Grammar community which is celebrating 125 years as an urban, college prep Catholic School dedicated to reaching individual excellence in a faith-based community rooted in Gospel values.

Every academic year, the Mission Grammar community is reminded of the founding vision of our school and is re-energized by its mission of transformative education. At OLPH Mission Grammar School, the community works to bring alive the following commitments:

-- Living the Gospel includes caring for God's creation. As a school community we work to develop a deep prayer life, a commitment to helping others, and spreading the message of Christ.

-- The strength of a school is in its community. Families, the administration, faculty, staff, and scholars work in partnership to accomplish and strengthen academic and social success. The neighborhood, rich in resources, strengthens student opportunities, teacher support, and professional development.

-- Academic excellence distinguishes Mission Grammar. The administration, faculty, and staff value training in best teaching practices as well as a strong relationship with the most current language arts publications. Under collaborative leadership, the faculty and staff work to establish standards based, college prep curricula.

-- A safe, welcoming climate fosters school culture. The administration, faculty, and staff work to maintain excellence planted in mutually respectful relationships. We work to build relationships and maintain a code of conduct based on the principles of Responsive Classroom. We promote growth and make change in partnership with families and scholars. We celebrate our identity of being a Peace First school.

On June 4, 2015, OLPH Mission Grammar School will celebrate 125 years with its gala entitled Faith in the Future. We look forward to celebrating the past, present, and future of this faith-filled community! For more information, please visit our website www.missiongrammar.org.

Mark Harrington is the Development Program Director (mharrington@missiongrammar.org or 617-442-2660) at OLPH Mission Grammar School in Boston's Roxbury section, a PreK through grade six school serving a diverse population of 225 students.