Ordination class of 2015: Deacon Anthony Cusack
---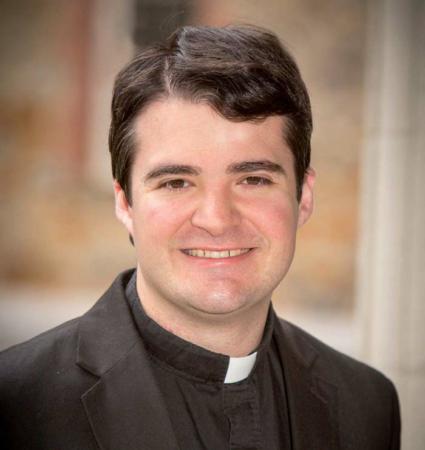 Deacon Anthony Cusack Pilot photo/George Martell
Help us expand our reach! Please share this article
This is the final installment in the series profiling each of the five men who will be ordained to the priesthood by Cardinal Seán P. O'Malley at the Cathedral of the Holy Cross on May 23, 2015. To read the other profiles in the series, please visit TheBostonPilot.com.

It all began with an invitation -- an invitation to a discernment retreat offered by the Vocations Office of the Archdiocese of Boston.

"I said to myself, 'It's non-committal. It's just a retreat. It's not like I'm signing my soul away on the dotted line," laughed Deacon Anthony Cusack.

That, he said, "was the first step."

Born and raised in a Catholic family in South Boston, Deacon Cusack had always been involved in the life of his parish: Gate of Heaven. But the priesthood was never part of his life's plan.

"This is the absolute last thing I wanted to be for the first 22 years of my life," he said smiling, adding that "the simple reason is that I wanted a family more than anything."

In keeping with the vision Deacon Cusack had for his life, he attended college, where he majored in liberal arts, and entered into a serious relationship with a young woman.

After graduation, he found himself "at a weird place" in his life, he explained.

His relationship had not worked out, and he began doing inventory work at Brigham and Women's Hospital in Boston.

"It was a great job, as far as jobs went," he said, "but I knew that I didn't want to spend the rest of my life there."

It was then that he received the invitation to attend the vocations retreat.

"I didn't walk out thinking that this is what I've been called to for the rest of my life," he admitted, but he did get sound advice from then-seminarian Father Eric Cadin.

"He said to me, 'If you feel like you're torn and you're on the fence and can't decide, just pick one and trust that, even if it's not what God is calling you to. He will make it known in time,'" the 29-year-old recounted. "It made a lot of sense to me, so in that mindset, I applied to (St. John's) seminary with the notion that this might be what God was calling me to."

According to Deacon Cusack, his family "struck the perfect balance" -- respecting his decision to become a priest and "neither pressuring nor discouraging" him to pursue his calling.

"I think they always secretly suspected it," he said. Although, at first, Deacon Cusack himself was unclear whether or not he was called to be a priest, he said.

"I made an unspoken agreement between myself and God," explained Deacon Cusack. "I told myself that I wouldn't leave the seminary because I was having a bad day, or because I really like girls, or because it got hard -- and all those things happened -- but I would only leave the seminary if I thought God was calling me to something else."

"That never happened," he said.

Instead, the opposite occurred.

"God revealed to me that not only was this what he wanted me to do, but at the end of the day, this is what I wanted to do," he said.

"More than anything, I want to give of myself in such a way that it would encompass my whole life," he said. "I want to help people get closer to God."

This was made evident after working with the youth of the collaborative of St. Mary and Sacred Heart parishes in Lynn, where Deacon Cusack has been assigned during his time as a deacon.

Watching the young people get closer to God "has made all the struggles, all the worries, all the uncertainties about marriage -- just worth it," he said.

"I know that if I've done anything to bring these kids closer to God, it's worth it," Deacon Cusack said. "That's what I want to do with my life."