Edmund Rice Christian Brothers at Catholic Memorial
---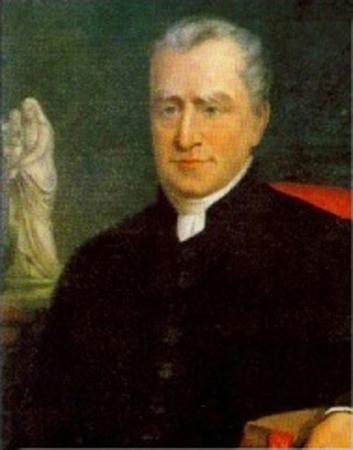 Blessed Edmund Rice Photo via Wikimedia Commons
Help us expand our reach! Please share this article
The Edmund Rice Christian Brothers opened Catholic Memorial School in West Roxbury in September 1957, but the story of the Brothers started in Waterford, Ireland in 1802 when Blessed Edmund Rice responded to a need. Edmund, a wealthy businessman, was moved by countless young boys who had nothing and had no hope of advancement. He established a school to educate, a bakeshop to feed and a tailor shop to clothe boys in desperate need. Edmund turned over his financial resources to educate boys and thus provided them with a solid foundation for their futures.

As apostolic religious the Edmund Rice Christian Brothers "are missioned by the Church for the evangelization of youth, and especially for the education and care of the materially poor. This mission is expressed through a variety of ministries. In each ministry we respond creatively to emerging needs in a changing world. " (Constitutions of the Congregation of Christian Brothers: 25)

The Brothers came to St. John's, Newfoundland in 1876 and to Harlem, New York in 1906 and to West Roxbury, Massachusetts in 1957.

Catholic Memorial High School opened in September 1957 with 225 students and five Christian Brothers in the former St. Theresa of Avila School. Brother Joseph G. McKenna, CFC was the founding principal along with Brothers Spencer Philip Considine, Aton Joseph Lips, Thomas Francis Feerick and Thomas Stephen Patterson.

In 1959, the present high school across the street from the "Old Building" was opened and dedicated. The "Old Building" was renamed Donahue Hall in honor of Msgr. Charles A. Donahue who was pastor of St. Theresa Parish and very influential in bringing the brothers to Boston. The Middle School program, the vision of Brother John Sheehan, CFC opened in the Donahue Hall in September 1993.

"Inspired by the vision of the Congregation's Founder, Blessed Edmund Ignatius Rice, Catholic Memorial seeks to create an atmosphere of Christian care and concern in which all of our students can grow to maturity. Students are provided an opportunity to understand and appreciate the mission of Jesus Christ with a view to modeling their lives upon Gospel values. The school offers a college preparatory curriculum and co-curricular activities aimed at the religious, moral, intellectual, emotional, physical and social development of our students. Our program is designed to help all of our students realize their fullest potential as educated gentlemen who practice Catholic ideals in service to God and society." (Catholic Memorial website: www.catholicmemorial.org)

The Catholic Memorial website paints a vivid picture of the vibrancy that is CM. The dreams of a few in 1957 have become the reality that is Catholic Memorial today. The legacy of the Edmund Rice Christian Brothers and the early founders of CM is carried on by the work of Brothers Anthony Kiril Cavet, John Dornbos and Kirk Phelps. The Brothers strive to live the vision of Blessed Edmund Rice with great enthusiasm.

Brother Peter J. O'Loughlin is a member of the Edmund Rice Christian Brothers North America Province Leadership Team, 742 Monroe Avenue, Elizabeth, New Jersey -- check out the Brothers' Web Site -- ercbna.org.