Catholic school teachers inspire, lead
---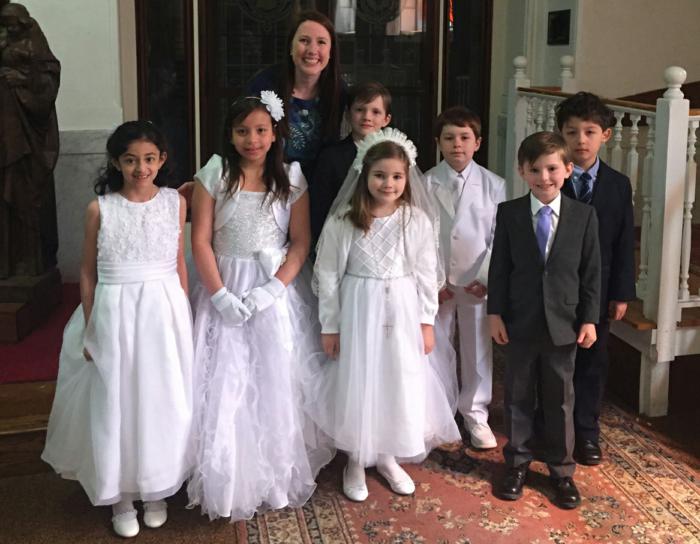 Erin Shanahan of St. Mary of the Assumption School in Brookline is pictured with her students who celebrated their First Communion this year. Courtesy photo
Help us expand our reach! Please share this article
This week, schools around the country celebrated Teacher Appreciation Week. There are 3,407 teachers in the Archdiocese of Boston who teach 39,447 students. While all deserve to be thanked and praised, the following are profiles of three teachers whose stories are echoed in schools throughout the archdiocese.

Modeling empathy and social justice in the second grade

Erin Shanahan, a second grade teacher at St. Mary of the Assumption School in Brookline, builds her classroom around "the 3C's" -- she inspires students to be confident, capable and connected. Having the 3C's in place, Shanahan says, brings a sense of belonging to the classroom and it's what makes student learning thrive.

Shanahan, who has been teaching for five years, has been at St. Mary's School since the beginning of her career. Her love for the school and community is apparent; when Erin and her husband got married at St. Mary of the Assumption Church last summer, students contributed art for her wedding program, and some students and faculty attended the ceremony.

Shanahan said, "It was great to be able to prepare my students for two sacraments -- first reconciliation and first Holy Communion -- while I was preparing for a sacrament myself." The second graders at St. Mary's celebrated their first Holy Communion last weekend, and Erin was there to guide her students and share in the joy of the sacrament.

A strong sense of social justice and Catholic identity is infused in the second grade classroom.

"I try to incorporate Catholic values and social themes throughout the curriculum rather than limit it to just the 40-minute religion lesson." Shanahan said.

This year the students in Shanahan's class brainstormed ways to help the homeless and lonely -- two groups that the students pray for frequently. The result of this brainstorm was Socks for Smiles. Students at St. Mary's donated travel-sized toiletries and tube socks. The second graders then stuffed over 100 pairs of socks that were then donated to the Elizabeth Stone House in Boston.

This feeling of social justice and Catholic identity extends to the larger school community as well. Principal Theresa Kirk has organized events such as a Thanksgiving food drive, dress-down days for various charities, and donating Easter baskets to a local women's shelter.

Shanahan also teaches empathy in her classroom through daily instruction.

"Every classroom is a mix of different ability levels. I try to guide students to understand how everyone always has something that is difficult for them. To some it may be math, but to others it may be drawing or swimming. I encourage students to share some of the things that they find hard, their feelings, and how they overcome these challenges," said Shanahan.

In addition, Shanahan adjusts her teaching to the individual students.

"In many subjects, I differentiate the work to fit the specific needs of students, whether it's to give extra support or to challenge them. This allows everyone to feel confident and successful at many different levels."

Gareth Gorman's daughter is in Shanahan's class, and he and his wife Kate watched his daughter blossom under Shanahan's tutelage.

"There are no words to fully relay the gratitude we feel toward Mrs. Shanahan. We watched our daughter go from a struggling student who was riddled with anxiety at the prospect of going to school, to a happy, fully engaged second grader who cheerfully springs out of bed in the morning to prance into the classroom for another day of learning," Gorman said.

The seasoned veteran and the rising star

Two teachers -- one only a few short weeks from retirement, and the other completing her second year of teaching -- have forged a solid partnership that betters the students at Blessed Sacrament School in Walpole. Christine (Chris) McGree and Rachel Davies both teach third grade at the school. With classrooms connected by a doorway, the two women collaborate with ease.

Davies said, "As a new teacher, learning how to run a classroom is the first step and a very overwhelming one. Chris has given me so many tips for how to operate a classroom, from how much homework to give, to how to grade essays. She has taught me how to handle certain classroom management situations, how to conduct a parent-teacher conference, and how to do report cards."

McGree echoed the benefits of teaching alongside Davies. "Rachel has brought new and fresh perspectives to our lessons in many areas. She has been a tremendous help to me with anything that has to do with technology. We also always discuss ways to differentiate instruction in order to meet the needs of students with different talents and abilities."

One way that the teachers collaborated and combine teaching styles was through a research project on the early history of Massachusetts. Students were asked to research information and work in small groups. Both instructors helped with guiding students with the research skills, and then Davies took charge of guiding students that chose to represent their research via an iPad project, and McGree guided students through the hands-on projects where they created replicas of Plimoth Plantation.

"It's fun to see the students so engaged and excited. Providing them with a variety of research topics to choose from and allowing them to choose how they wish to represent their knowledge appeals to various learning styles as well as interests. It makes it easy for the students to choose a project that demonstrates their strengths and helps build self-confidence and pride in their work," said Davies.

Davies, who started attending Catholic school in the third grade, also attended a Catholic high school, college, and graduate school.

This collaborative and spiritual atmosphere is a hallmark of Blessed Sacrament School. Principal Jim Spillman said, "We are blessed to have so many talented, dedicated and creative teachers at Blessed Sacrament School. As principal, I appreciate the mix of veteran and novice teachers that we have, as the teachers are able to develop mentoring relationships that are beneficial to both educators. This pair of teachers in our third grade has been a perfect example of this. It's clear that they've both supported each other a great deal over the last two years."

He continued, "The entire community here at BSS will miss Chris as she enters into retirement. The wisdom she brings as a master teacher is something that can't easily be replaced in a school. I'm thankful, however, for the seeds she has planted and nourished in so many teachers and students during her time here."

Meghan Stellman is communications coordinator of the Catholic Schools Office.