BC College of Arts and Sciences to be named for Robert Morrissey
---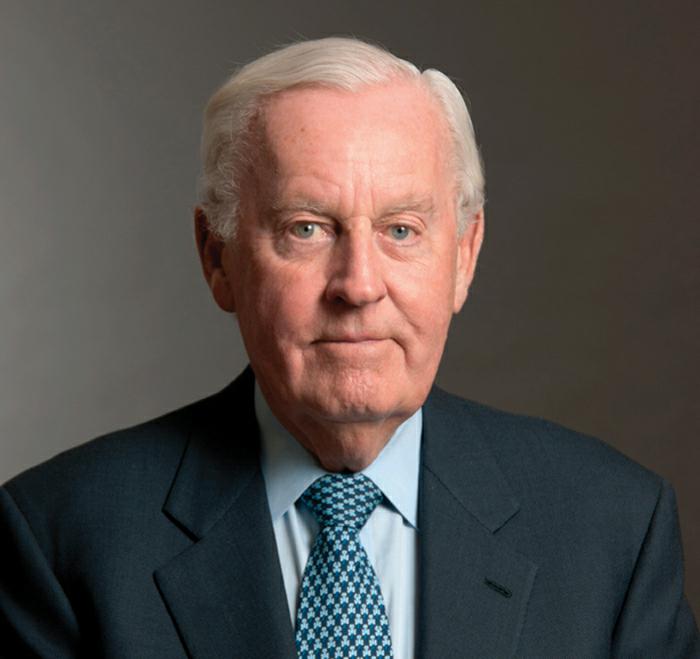 Robert J. Morrissey Pilot photo/courtesy Boston College
Help us expand our reach! Please share this article
CHESTNUT HILL -- Boston College has announced last week that it will name its College of Arts and Sciences in honor of Robert J. Morrissey, a 1960 graduate of Boston College and a prominent Boston attorney and investor who, with this latest commitment, will become the largest benefactor in the university's history. Terms of his gift were not disclosed.

Morrissey served as university trustee from 1980-2014, and has chaired the Committee on Investment and Endowment since 1981. His leadership and investment acumen have played a decisive role in the growth of Boston College's endowment over the past 35 years from $18 million to more than $2.2 billion.

"The Robert J. Morrissey College of Arts and Sciences is a fitting tribute to an alumnus whose commitment, service and generosity provide such a powerful example, and will have a lasting impact on Boston College," said university president Father William P. Leahy, SJ.

Father Leahy continued, "Bob Morrissey has long appreciated the value of a liberal arts education, and has been grateful to his alma mater for his undergraduate experience. He has devoted much of his life to advancing the university, and now his name will forever be connected to the College of Arts and Sciences at Boston College."

The oldest and largest of the university's eight schools and colleges, the Morrissey College of Arts and Sciences comprises 6,867 undergraduate and graduate students and 450 full- and part-time faculty within 22 academic departments. As an affirmation of its commitment to the liberal arts, in 2013 Boston College opened Stokes Hall, a $78 million humanities building that is home to several arts and sciences departments and programs, and in recent years has made significant investments in the social and natural sciences.

"This gift marks a major milestone in the life of Boston College," said Provost and Dean of Faculties David Quigley. "Henceforth, all Boston College students will benefit from this substantial investment in the university. I'm thankful for this unrestricted gift and its statement of belief in and support for Boston College."

A native of Watertown who was raised by his mother after his father's early death, Morrissey commuted to Boston College during his student years. After graduating from Boston College cum laude with a degree in economics, Morrissey earned a law degree at Harvard Law School before joining the firm of Withington, Cross, Park and Groden, where he became a partner at the age of 30. In 1990, he co-founded the Boston-based law firm Morrissey, Hawkins and Lynch, where he currently serves as senior partner.

"My Boston College education had a transformational effect on my life," said Morrissey. "I am especially grateful for the faculty at Boston College who served as my teachers and mentors, particularly the members of the Society of Jesus. My classmates and I were often the first in our families to get a chance at higher education, but we knew that we were part of something special and of great importance to our families--Boston College."

Morrissey said that he joined the BC Board of Trustees as a way of giving back to his alma mater, which had played such a pivotal role in his formation. "When I got involved as an alumnus 35 years ago, the university had limited financial resources. Growing those resources became my priority, because I knew that doing so would change the lives of future generations of Boston College students."

"No individual has contributed more to the growth of the endowment that is so critical to our future than Bob Morrissey," said John Fish, chairman of the university's board of trustees. "As a trustee, Bob has devoted countless hours to advancing Boston College and has played a unique role in making Boston College what it is today. We are all indebted to him."

In addition to his work on behalf of Boston College, Morrissey has also served on the investment committees for the Society of Jesus at the Vatican and in New England, as well as the Archdiocese of Boston. He is a member of the Dean's Advisory Board of Harvard Law School, and chairman of the Board of Directors of Belmont Savings Bank. He received an honorary Doctor of Laws degree from Boston College in 2014.

Morrissey and his wife, Alyce, are the parents of five children, all graduates of Boston College. Regular attendees at athletic and campus events, they have long described Boston College as their "home away from home."

Citing the three loves of his life as his family, faith and Boston College, Morrissey said he was happy to support his alma mater. "I have been truly blessed," he said, "and I am pleased to give back to Boston College for all that it has given me."