Coming home to the faith: Cheri Grassi, St. Michael, North Andover
---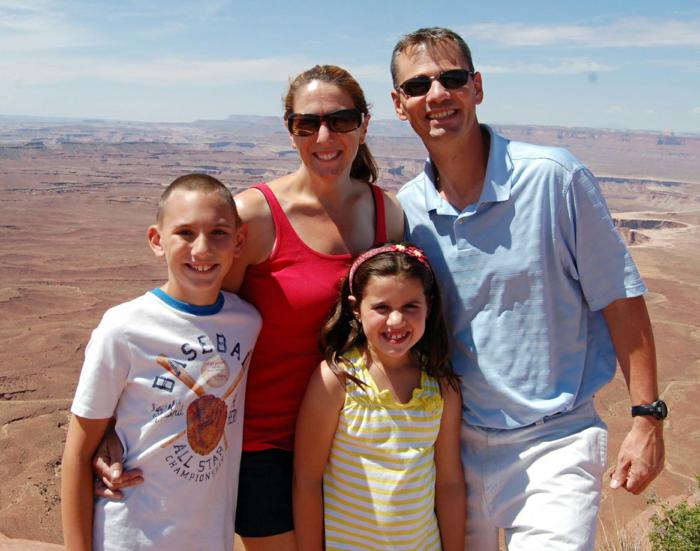 Cheri Grassi, her husband and their two children are pictured on a recent family vacation to Utah. Pilot photo/courtesy the Grassi family
Help us expand our reach! Please share this article
Cheri Grassi approached the Catholic Church with curiosity. She enrolled in the Rite of Christian Initiation of Adults (RCIA) because she wanted to ask questions about the faith that the Catholics in her life could not answer.

Grassi, who was baptized Catholic as a baby, grew up worshipping at a Protestant Congregational church. She attended a Catholic high school, Academy of Notre Dame in Tyngsboro, and in college she began dating a Catholic, and his faith piqued her interest. She found out that her cousin's wife planned to join RCIA at St. Michael Parish in Andover and decided to join with her.

"My intention was not to convert, just to question and learn, but it was so overwhelmingly positive, warm and inviting," Grassi said. "It felt like home to me."

Her boyfriend sponsored her when she made her first Communion and confirmation in 1998. They later married at St. Michael's. Their 9-year-old son received his first Communion at the parish, and their 8-year-old daughter will be the third person in the family to receive first Communion there this May.

Grassi and her husband served in the marriage preparation program for six years; they are both eucharistic ministers. Grassi is a lector, and her son is an altar server.

Grassi has been teaching religious education classes for the last four years. She said she understands her faith better as she teaches it to the children.

"It's neat to watch the kids when they ask questions and really want to learn and are excited," she said, adding that teaching her own kids has helped her to learn about God more than anything else. "It's nice that they're so inquisitive."

She also mentioned that the questions from her daughter can come at inopportune times like during the Mass. "They're wonderful questions that I don't want to put off because they're so 'in the moment.'"

Her son takes information in and then comes back to a topic when she least expects it. "He drops my jaw a lot with his knowledge and the way he perceives things," she said.

Grassi speaks highly of the parish community at St. Michael's, saying that parishioners are very welcoming. The parish offers Bible studies, Lenten programs, men's and women's groups and other activities.

"They do a fabulous job of really having opportunities for people to grow in their faith," she said.

She encouraged anyone considering enrolling in RCIA to give the program a try.

"Why not?" she asked. "If you have the inkling, if you have the desire, it could be God calling you to do that. Give it a try and be open and see how it goes."

Grassi called receiving the sacraments at Easter in 1998 "comforting." She said it felt like a culmination of the faith journey of her entire life. She had always been involved in church activities and knew God was working in her life.

"Having God in my life means I am never alone," she said.