BC hosts Catholic school teams to examine students' role in 'Evangelii Gaudium'
---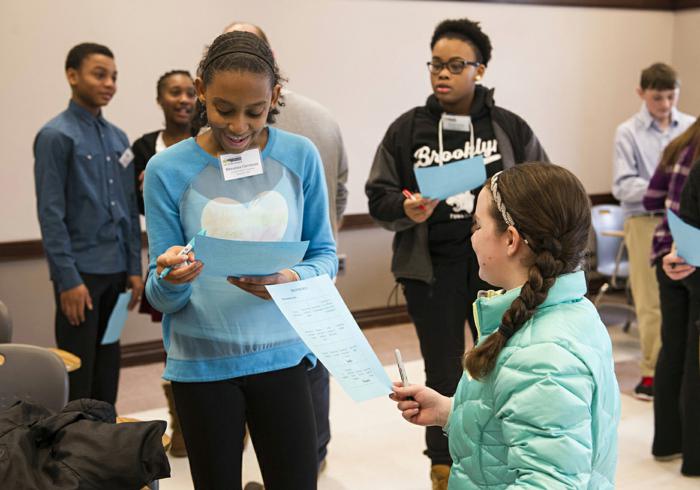 Teams of principals, teachers and students from nearly 30 Catholic schools from throughout Massachusetts and the northeast attended a workshop last week conducted by Boston College's Roche Center for Catholic Education. The workshop focused on the role of students in school-based faith formation in the wake of Pope Francis's call to action "Evangelli Gaudium." Pilot photo/courtesy Chad Soldt, Boston College
Help us expand our reach! Please share this article
CHESTNUT HILL -- The Roche Center for Catholic Education brought principals, teachers and students from nearly 30 Catholic schools throughout the Northeast to Boston College to take a close look at how they can help fulfill Pope Francis' stirring vision of faith in action.

Inspiring faith is a central focus of the apostolic exhortation "Evangelii Gaudium" -- "The Joy of the Gospel" -- a call to evangelical action issued by Pope Francis in 2013. The 223-page document has been likened, in importance and inspiration from the Argentine Jesuit, to the impact of the Rev. Martin Luther King, Jr.'s, "I Have A Dream" speech.

How Catholic schools embrace the apostolic exhortation is viewed as central to their mission to foster the Catholic faith and achieve educational excellence, said Roche Center Executive Director Patricia Weitzel-O'Neill.

"The message from Pope Francis is so strong about the joy of the Gospel and it reminds us to be joyful and that this joy is key to our Catholic identity," said Weitzel-O'Neill. "He has asked us to celebrate our faith and everything we have and that is what Catholic education is all about."

Teams of principals, teachers and students from nearly 30 schools attended the March 4 workshop, traveling from schools in the Archdiocese of Boston, other Massachusetts dioceses and New England, and as far away as Pennsylvania and New Jersey. Schools from the Archdiocese of Boston that [participated in the conference included Blessed Sacrament School, Walpole; Cathedral High School and Mission Grammar School, Boston; St. Columbkille Partnership School and St. Joseph Preparatory High School, Brighton; South Boston Catholic Academy, South Boston; Pope John High School, Everett; Sacred Heart Elementary School, Roslindale; and St. Rose School, Chelsea.

The program was part of the Roche Center's Emmaus Series, which offers school leaders professional development focused on the areas of spiritual formation, curriculum and instructional design, and business management.

Principals brought teachers and students to the workshop, which focused on the role students can play in the renewal of school-based faith formation.

Speaker Michael J. Corso, of the Quaglia Institute for Student Aspirations, encouraged school leaders to give students a legitimate voice in the work of schools to celebrate their Catholic faith and build school culture. Student perceptions matter, Corso said, and should be viewed as valuable data. Just don't expect students to be perfect.

"When kids drop the ball in a leadership role, we teach them," said Corso. "We are teachers. It's what we were born to do... We don't take leadership over from them."

Speaker Paul Melley, St. Ignatius Parish liaison to BC's Office of Campus Ministry, described the pope's Nov. 26, 2013 document as a unique guide for Catholics in these times.

"He's very clear and he pulls no punches...the good news is he talks the talk and he walks the walk," said Melley. The apostolic exhortation "takes the teachings and practices of the Church and it tells us how we can apply them in a meaningful way."

While the adult participants were engaged in the morning working with Corso and Melley, the student participants were developing their leadership skills in interactive, dynamic workshops led by teams of Boston College undergraduate and graduate students. The sessions focused on topics such as clarifying values, persuasive speech, and listening skills required to be an effective leader. During these sessions, students had the opportunity to learn from and engage with students from different Catholic schools from both urban and suburban areas, broadening their perspectives and view on Catholic education.

For schools, the guidance comes at an opportune time. Surveys have shown seemingly essential elements of Catholic education are not being conveyed to students in Catholic schools. Just 53 percent of high schoolers queried reported teachers encouraged them to look for God in everyday life; just 27 percent said discussions about religion are part of all their classes, according to 2006 data from the National Catholic Center for Student Aspirations.

Chad Broussard, the head of school at St. Anthony High School in Jersey City, N.J., said the Emmaus workshops are driving school improvement on a number of fronts.

"This has offered a sense of renewal," said Broussard. "These workshops and my fellow school leaders have equipped me with new leadership tools and guidance to bring back to the St. Anthony community and be an even more effective school leader."

Nancy Carr, the principal of the 360-student pre-K to grade 6 South Boston Catholic Academy, said the program offered a unique opportunity to the two student leaders.

"The words Catholic education together mean academic excellence," said Carr. "This was a chance to let students see what goes into that. Bringing our students here with us today helps to show them what Catholic education is all about."