Fall River priest assigned to Vatican's observer mission at U.N.
---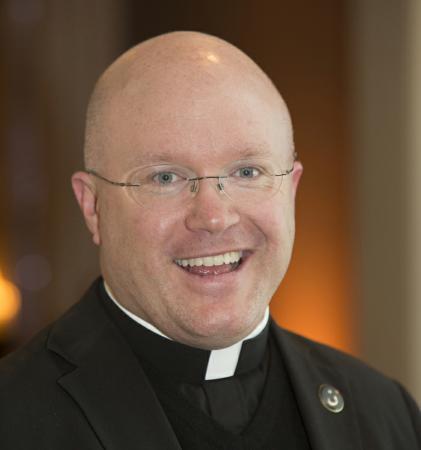 Father Roger Landry Courtesy photo
Help us expand our reach! Please share this article
FALL RIVER (CNS) -- Father Roger Landry, former pastor of St. Bernadette's Parish in Fall River, has been given a new assignment: working for the Vatican's Permanent Observer Mission to the United Nations.

The 44-year-old priest -- a dynamic teacher, retreat leader, preacher and writer -- began the four-year commitment at the United Nations March 3.

When Bishop Edgar M. da Cunha of Fall River met with Father Landry about the assignment in December, the priest said he expected some type of job change, but he "never anticipated being asked to go to the United Nations."

He said he will be assisting Archbishop Bernardito Auza, Vatican nuncio to the U.N. and working on committees focused on defense of the unborn; needs of women, children and families; human rights; poverty and racism; globalization; the environment; care for refugees, the elderly and people with disabilities; and crime prevention and international drug control.

"I think I'm going to be busy!" he told The Anchor, Fall River's diocesan newspaper.

Father Landry, a native of Lowell and 1992 graduate of Harvard College, was ordained a priest of the Fall River Diocese June 26, 1999.

During his nearly 14 years as a diocesan priest, he served as a parochial vicar at SS. Peter and Paul Parish at Holy Cross Church and Espirito Santo parishes in Fall River. He was parochial administrator at St. Anthony's Parish in New Bedford before he was named pastor of St. Bernadette's Parish. He also was the executive editor of The Anchor from 2005 to 2012.

The priest said he will miss the opportunities and special graces he had as pastor and he will also miss the contact with "so many people within the diocese" -- priests, parishioners, members of the Team of Our Lady, young people seeking a vocation and families who have welcomed him into their homes.

But he also said he was excited about the rewards and challenges of his new assignment.

"I'm looking forward to the work and the way that it will draw together four different phases of my life: my study, my experience in politics in Washington, D.C., my languages, and my priestly pastoral work focused on serving people with ideas."

The priest, who speaks six languages, said that even though most of the work at the U.N. is in English, he will be happy to use his language skills for "many of the important, informal conversations that take place."

He said he hopes to speak at weekend conferences and give retreats. He also plans to continue writing his column "Putting Into the Deep" for The Anchor.

Father Landry said he hopes friends will continue to remain in contact with him. "I'm happy that I'm not being transferred to Antarctica and that my cellphone and main email addresses will still work! I anticipate many friends will get in touch when they're coming to Manhattan and I would hope to be able to connect with some when I drive to visit my parents in Lowell every eight to 10 weeks."

He asked for prayers and support for the Vatican's work at the United Nations as it tries to "serve as a leaven for international negotiations about the common good." He also asked for prayers for the success of Pope Francis' upcoming visit to the U.N. in September, noting that he will assist Archbishop Auza "in preparing for that important visit."

Dave Jolivet is editor of The Anchor, newspaper of the Diocese of Fall River.