Labels are for Jars Lenten program helps feed both body and soul
---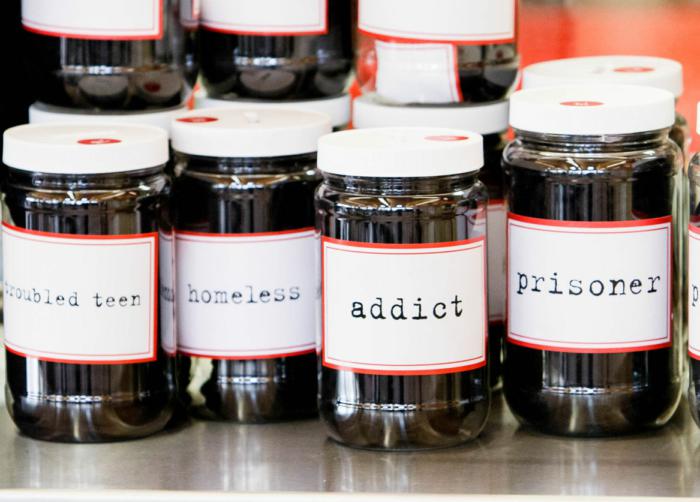 Purchasers of Labels are for Jars t-shirts are encouraged to keep the plastic jars they come in and fill with them coins and bills, piggybank-style, to be sent back as a donation to the Cor Unum Meal Center in Lawrence. Pilot file photo/Gregory L. Tracy
Help us expand our reach! Please share this article
The Cor Unum Meal Center in Lawrence has been feeding the hungry for close to a decade and once again this Lent, it is also striving to feed souls.

Through its Labels are for Jars Lenten program, Catholics are invited not only to donate their treasures, they are also given tools to challenge and deepen their faith.

"By its very nature, our Lenten program is very user-friendly," explained Father Paul O'Brien, pastor of St. Patrick parish and chairperson of the meal center. Parishes or individuals wishing to participate need only download the materials from the Labels are for Jars website, www.labelsareforjars.org/lent_guide.html, and begin.

"We have just put out all the materials one may want -- from a label people can put on their own jar" to encourage almsgiving, "to a daily reflection" based on the Gospel reading of daily Mass.

"This is not your typical Lenten program," he added.

He admitted that there is no way to track how many individuals and parishes participate in the program, but added that "we definitely get a very positive response."

Although Lent has already begun, he added, "it is not too late for people to get involved." In addition, parishes wishing to participate have permission to use the reflections in their weekly bulletins.

"This is a great resource we provide for parishes," Father O'Brien said.

This year marks the 10 year of the Labels are for Jars Lenten Program. Father O'Brien, who himself writes the reflections of the readings, said "These are not pretty inspirational quotes, or even brief texts from the Bible. The reflections can get pretty challenging."

According to Father O'Brien, the idea of creating a Lenten Program emerged shortly after the Labels are for Jars fundraising campaign was first conceived. To raise funds, Labels are for Jars sells both black t-shirts bearing stereotype-challenging labels like "minority" or "troubled teen" and a black skull cap designed by fashion designer John Varvatos, which bears the label "hungry."

While selling t-shirts or other clothing to raise funds is fairly common, what set Labels are for Jars apart is its packaging, which promotes on-going support. The clothing comes packaged in plastic jars with a slot in the lid, which the purchaser is encouraged to keep and fill with coins and bills, piggybank-style, to be sent back as a donation to the Cor Unum Meal Center.

During the Lenten program, those who haven't previously purchased a t-shirt or cap can print a label from the program's web site and affix it to the jar of their choosing.

The shift from the traditional campaign to a Lenten Program was "automatic," recalled Father O'Brien. "It's really an easy transition from the Labels are for Jars to a Lenten program in terms of almsgiving."

Any money collected during the Lenten program goes directly to feeding the hungry, he said. Currently the Cor Unum Meal Center serves 225,000 meals every year. Open for both breakfast and dinner, the meal center operates less like a soup kitchen and more like a high-quality restaurant. Volunteer greeters seat guests as they arrive and they are then served a multi-course dinner with a choice of entree free of charge.

"All the meals are hot meals and are highly nutritious because it's not just about filling stomachs, it's about feeding people well," Father O'Brien said.

According to Father O'Brien, the cost of each meal is roughly $1.

"That's a great bang for your buck," he said, adding that costs remain so low because "The Cor Unum Meal Center continues to operate with only 1.5 paid employees. So we really operate on the good will of thousands of volunteers -- and there's always room for more."

The meal center first opened its doors in 2006 in order to combat the problem of hunger in Lawrence.

"Hunger is all too common in Lawrence," explained Father O'Brien, noting that 75 percent of children in Lawrence are at risk for hunger according to the U.S. poverty guidelines.

The center is open every day of the year, he said, adding that "even in the recent snow catastrophe, we managed to keep open for both meals every day."

"People across this country often ask if there's enough high-quality food available at a low cost in order to feed the hungry and my answer is, 'Yes, there is. And we are the proof," he said.