Forming the future: Faraaz Nadeem, Xaverian Brothers High
---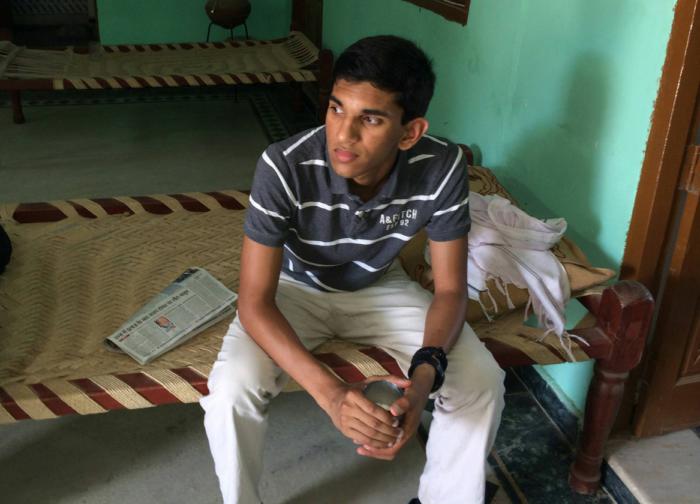 Xaverian High senior Faraaz Nadeem is pictured during his visit to the village of Sakatpur, India. Pilot photo/courtesy Faraaz Nadeem
Help us expand our reach! Please share this article
This week, The Pilot begins a new, occasional series "Forming the future," which aims to bring readers inspiring stories from the elementary, middle and secondary Catholic schools within the Archdiocese of Boston.

Teenagers spend many hours on their smartphones -- texting, playing games, taking photos. But Faraaz Nadeem, senior at Xaverian Brothers High School in Westwood, has taken his smartphone to a very different level.

This past summer, Nadeem travelled to Sakatpur, a remote village in India, to test a new smartphone app -- one that helps reduce the risk of childbirth in India. What's more, it's an app Nadeem created himself.

According to Nadeem, his time at Xaverian has fostered his desire to better the lives of those less fortunate.

"The moral theology course I took in my junior year really encouraged me to learn about troubling social and moral issues society faces today," he said. "My freshman Human Geography course taught me about diverse cultures in the world, and how they interact and develop."

In addition to his education, Nadeem found the school's social projects helped nurture his altruism. Weekly "X-Trips" to places such as homeless shelters, nursing homes and soup kitchens helped Nadeem "get involved" in the wider community, he said.

Nadeem also said his scientific knowledge was deepened at Xaverian.

He noted that his interest in computer science "blossomed" during his junior year. He taught himself various applications of computer science, including computer programming, software development, and how to develop and create a smartphone app.

He developed his first app during his junior year -- one that already has more than 20,000 downloads in over 100 countries.

That summer, he interned at the American India Foundation (AIF), an organization founded by former president Bill Clinton committed to "catalyzing social and economic change in India," according to the organization's web site.

During his time there, Nadeem worked for the Maternal and Newborn Survival Initiative (MANSI) program.

According to Nadeem, the MANSI program works in remote villages in India to help educate women about pregnancy and childbirth. "There's not much connection to the outside world in these places," he said. "They really don't know much about what to eat and stuff."

Because of their success in the few villages they have worked in, MANSI was looking to expand into 15 other villages, but they were facing a roadblock: because of the diversity of languages, all their paper forms had to be translated into a wide array of languages.

"I said to them, 'I can make an app for that,'" Nadeem recalled. "An app allows for flexibility -- it's easy to customize, it's easy to translate, it can be downloaded anywhere, no matter how remote a location."

According to Nadeem, even in the remotest parts of India, people use smartphones.

"While they may not have paved roads or access to WiFi, they all have mobile phones," he said, noting that he has often travelled to India with his parents to visit their relatives in New Delhi and has marveled at how prevalent cellular phones are.

"People rely heavily on mobile phones in India," he said.

Nadeem developed the app, and once in India, he gave presentations on the effectiveness of the app to the directors of the MANSI program.

"I think the presentations went pretty well," he said, adding that he anticipates the app will be implemented during 2015.

In the future, Nadeem hopes to continue using his computer skills to aid those less fortunate.

"I don't have any specific plans yet," he said. "But I know that something will turn up."