Local Catholic invited to attend State of the Union
---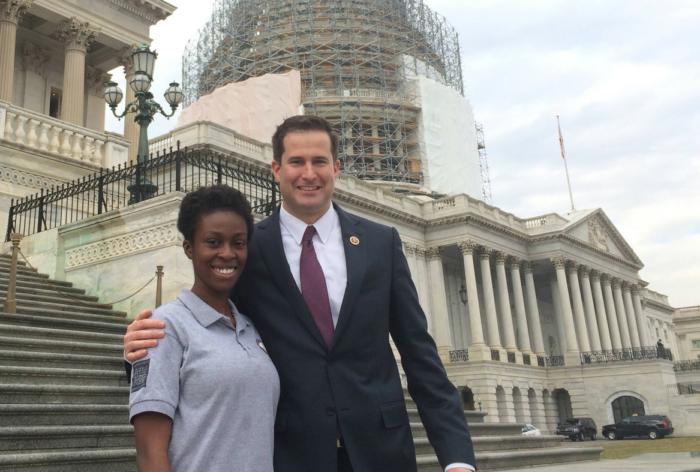 Ludia Modi is pictured with Rep. Seth Moulton (D-Salem) outside the U.S. Capitol building. Pilot photo/courtesy Ludia Modi
Help us expand our reach! Please share this article
LYNN -- Ludia Modi's service to her Lynn community earned her a trip to Washington D.C. and the opportunity to attend an address by the president of the United States. The 22-year-old AmeriCorps volunteer accompanied her congressman to President Barack Obama's State of the Union speech on Jan. 20.

Modi told The Pilot that her Catholic faith sustains her and that God has guided her to serve her community.

"Faith definitely plays a big role in what I do every single day," she said. "I'm a firm believer in that God has a plan for everything that you do."

Modi went to Catholic schools from kindergarten through her undergraduate studies. She attended Sacred Heart School and St. Mary High School, both in Lynn, before moving on to Regis College in Weston and receiving her degree in public health last year.

Modi was born in Sierra Leone and moved to the United States in 1999. She is currently earning a master's degree in nonprofit management at Northeastern University.

As an AmeriCorps volunteer, Modi coordinates The Food Project, a local non-profit that recruits and educates youth so that they can work to create a more just and sustainable food system. Access to food is a right, not a privilege, she says. She educates 16 youth, ages 14-18, about food justice and hones their public speaking skills so that they can engage other community members on those important topics.

She called the high school students she works with "incredible people" whose energy and desire to serve the greater good inspires her. "I love the service that I do. These youth inspire me in the same way I inspire them. It's a wonderful give and take."

Modi said she was also inspired by President Obama's words during his State of the Union address. She praised his vision of providing young people with two years of community college at no cost to them. She said that in her experience working with youth she has found that many of them do not know exactly what career they would like to pursue. They often continue to be unsure even after spending four years in college and tens of thousands of dollars. She thinks that two years of community college would allow many to figure out where their passion lies so that they can pursue it.

Modi remarked about the mood in the Gallery of the U.S. House of Representatives during the address. "It's like a surreal experience -- seeing all the people laughing and nodding and shaking their heads and smiling, all these emotions that are in the room. Clearly these emotions are coming from a place of concern, a place of care."

She said she learned that elected representatives care deeply about serving their communities on a daily basis. She was particularly struck by how passionate U.S. Rep. Seth Moulton (D-Salem), who invited Modi to the address, is about helping people take care of themselves and support others in their communities.

In a statement released on Martin Luther King, Jr. Day, Congressman Moulton announced his invitation to take Modi as his guest to the State of the Union address. "Martin Luther King, Jr. taught us that we all can make a difference because we all can serve. Ludia is living Dr. King's legacy by dedicating her time and energy to making our community a better place," he said.