Obituary: Father Arthur A. Brown former Norwood pastor
---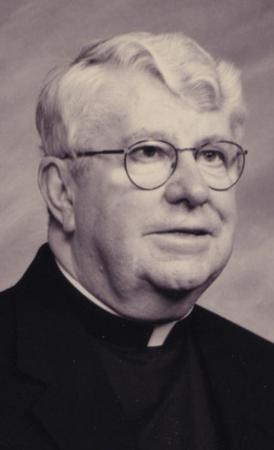 Father Arthur A. Brown Pilot file photo
Help us expand our reach! Please share this article
Father Arthur A. Brown, known to his contemporaries and friends as "Brownie," died in Falmouth on Jan. 14, 2015. He was 82.

Born in Boston on May 7, 1932, he was one of the five children of the late Robert and Helen (Kelly) Brown. Raised with his two brothers and two sisters, he attended Holy Name School in West Roxbury and Boston College High School before entering the archdiocesan seminaries in the Class of 1957.

The West Roxbury parish was in the '40s and '50s a hothouse of vocations to the diocesan priesthood, and religious communities of women and men. In addition to Arthur, a sister Barbara became a Sister of St. Joseph; her religious name is Sister Roberta Marie, CSJ. She served as President of the Sisters of St. Joseph from 1986-1994.

The large cadre of altar boys was directed by one of the parish priests, but there was also a "senior" altar server who oversaw the training of the new recruits. Arthur was that senior server at one point and several of our diocesan priests trained on his watch could readily tell you about his teaching methods and expectations. One said "Brownie never suffered fools gladly, if at all -- even then."

Boston Auxiliary Bishop Jeremiah F. Minihan ordained him to the priesthood at Holy Name Church on Feb. 2, 1957; he returned to his boyhood home parish to celebrate his First Mass there on Feb. 10, 1957.

His first assignment was as an assistant at the then relatively new parish of St. Bartholomew in Needham, not far from the family home. From the relative-suburban parish he moved to Boston's Back Bay in 1963 as an assistant at St Cecilia Parish. For the next five years he served in a large, urban parish with much activity.

In the decade 1968 to 1978, he was Campus Minister at Bentley College (now University) in Waltham. Father James O'Leary of St. Camillus, Arlington recalled from his days at Our Lady Comforter of the Afflicted, Waltham -- "There were three of us at the parish, but Brownie always celebrated the 5:00 p.m. Mass on Sunday evenings... we were delighted we did not have to stay around... and the people at the Mass liked him."

He returned to parish ministry in 1978 when he was appointed an associate at St. John the Evangelist Parish in Canton. Two years and week later he was named administrator of St. James the Greater Parish in Chinatown.

During the time he was administrator (until 1988) he successfully, though not without some backlash, oversaw the reshaping of the parish plant, notably the sale of the rectory and abutting land to New England Medical Center and the construction by NEMC of a new rectory and office space with a five car garage -- a true luxury in that area of the city, then and now.

In 1988 he was appointed pastor of St. Catherine of Siena Parish in Norwood; probably the closest parish in size, composition and demographic to his home parish in West Roxbury.

For the next 14 years he guided the parish, its large school and demanding schedule with able assistance from several parochial vicars, among them, Father Brian R. Kiely, presently Regional Vicar of the West Region who is also slated to preach at Father Brown's Funeral.

In December 2002, Father Brown returned from Norwood and lived at his personal residence in Falmouth, assisting for several years at St. Thecla parish in Pembroke as well as at Cape Cod parishes.

A regular at the now shuttered Jimmy's Harborside Restaurant on Boston's Waterfront, he was regularly found with a group of six or eight priests there on Friday nights -- Brownie holding court and holding forth. There are at least three adjectives that you could not attach to him: shy, retiring, or reserved. If he was in the room, you knew it.

He was great with a quick line, not excluding himself from one or another. When Sister Roberta Marie became the CSJ President he'd say "I'm the President's brother."

His Funeral Mass was celebrated at Holy Name Church on Jan. 21 with South Regional Bishop John Dooher as the principal celebrant and Father Kiely as homilist. Following the Mass, Father Brown was buried in Mount Benedict Cemetery, West Roxbury.

His immediate survivors are Sister Roberta Marie, CSJ, Framingham and a brother, Charles of Norwood.