West End tree lighting honors the faithful and the fallen
---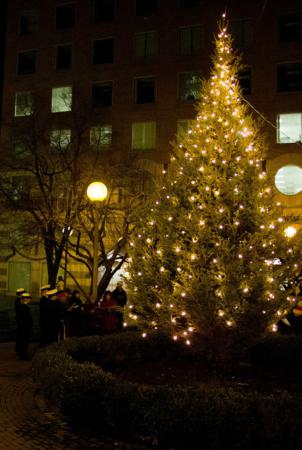 The tree lighting at Cushing Memorial Park in Boston, Dec. 13. Pilot photo/Christopher S. Pineo
Help us expand our reach! Please share this article
WEST END -- The 50th anniversary of the Regina Cleri residence for retired priests was among the people and events of 2014 that was remembered at the 19th Annual Christmas Tree Blessing and Lighting in Cushing Memorial Park, nearby the residence on Cambridge Street in Boston.

Priests, firefighters, and carolers turned out for the Dec. 13 event, which was also dedicated to the memory of Cardinal Cushing, Mayor Thomas Menino, Former Attorney General Robert H. Quinn and fallen Boston firefighters Lt. Edward Walsh, Jr. and Firefighter Michael R. Kennedy.

For 19 years Norman R.E. Herr, of the Friends of Richard Cardinal J. Cushing Memorial Park, Inc., has hosted the event. He said Christmas can be an appropriate time to celebrate something joyous while remembering something tragic.

"You can have sad and happy together, because it's Christmas," he said.

Central Region Episcopal Vicar Father James Flavin, gave a blessing before the tree lighting.

"Almighty and gracious God, we thank you for continuing to shed your blessings upon the City of Boston. We ask, this night, that you send your blessing upon this tree. May the light of this tree give hope to all who see it," he said.

Father Daniel J. Mahoney, Chaplain of the Boston Fire Department, thanked Herr and the organization for honoring the fallen firefighters and closed his remarks with a quick prayer.

"As we pray for them tonight, in whose honor part of this service is being dedicated, may we also remember all of our Boston firefighters, those who have died in the line of duty, those who have gone to God after faithful service, that they may know the peace and the happiness of Heaven with our patron Saint Florian, and for those firefighters working tonight -- like Engine 4 and Ladder 24, and at all the firehouses across this great city," Father Mahoney said.

Local firefighters were on hand with District Fire Chief Paul Burke and District Chief Michael Feely, who said firefighters appreciate the honor for the two firefighters and the opportunity to interact with the public outside of emergency situations.

"We protect the community, but we like to interact with the public on a basis where it's not an emergency, where we get to know the people," Burke said.

Inside the lobby at One Bowdoin Square, guests listened to Christmas music from the North End Music and Performing Arts Center Choir and Eastwood Productions Duo, shared coffee and snacks, and had a visit from Santa Claus.

Captain Jim Welsh, of Engine Company 33, said smaller scale events that honor the fallen "mean the world" to firefighters, but he also noted appreciation for the honor given to the priests of Regina Cleri at such an event.

"When they say we're going to pray tonight, it fills our hearts with appreciation and we can feel those prayers, and we know they will get back to the families as well," he said.

Priests from the residence also attended the Christmas tree lighting and joined guests for refreshments afterwards.

Father Henry Cunney said having the Regina Cleri residence in such a neighborhood brings many opportunities to interact with the community, but coming to a celebration like the one that evening provides a special opportunity.

"It's nice to see them come with their families, and to watch the children, that makes your Christmas," he said.

Father Raymond Kiley, administrator of St. Joseph's in the West End, said the priests living at Regina Cleri still play an active role in the faith life of the parish next door to their home in retirement. He said he enjoyed seeing the priests of Regina Cleri honored.

"First of all, they deserve it. You would be surprised when you go there the history that each of them have, working in Latin America, one is a two-star general. It's amazing," he said.

Guests on hand included former mayor and ambassador to the Vatican Raymond Flynn and his wife Catherine. He said he and his wife appreciated the recognition of Regina Cleri.

"I go down there often, to visit and say hello, so it was nice that they paid tribute to Regina Cleri at this Christmas tree lighting, because the priests do so much good work for the people here in the Archdiocese of Boston," he said.

Herr said next year the event will honor the memory of Springfield Bishop Emeritus Joseph F. Maguire, who passed away in November.