Mourners say good-bye to Bishop Maguire at funeral Mass
---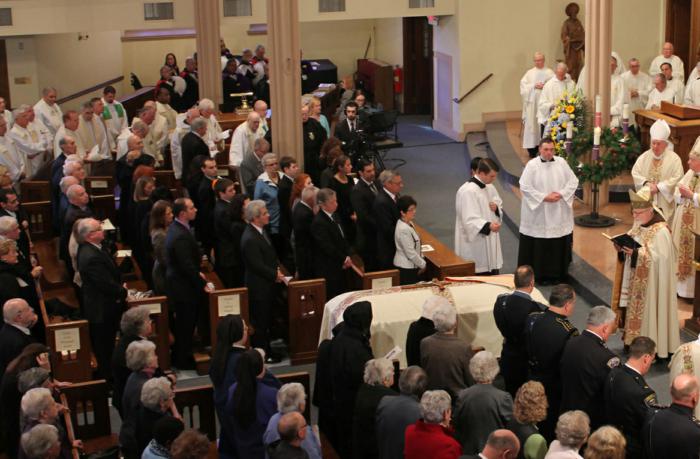 Cardinal Seán P. O'Malley offers the prayer of commendation at the close of the Funeral Mass of for Springfield Bishop Emeritus Joseph F. Maguire at St. Michael's Cathedral in Springfield, Dec. 1. Pilot photo/Patrick O'Connor
Help us expand our reach! Please share this article
SPRINGFIELD -- It had all the trappings of a major media event: television satellite trucks, reporters and photographers crowding around for interviews and camera angles, police cruisers and officers on the corner of State and Elliot streets.

But for the hundreds who attended this morning's funeral for Springfield Bishop Emeritus Joseph F. Maguire, the liturgy was not a celebrity circus. It was a fitting good-bye for a friend and family member.

"He truly loved people," said Springfield Bishop Mitchell T. Rozanski shortly before the 11 a.m. Mass at St. Michael's Cathedral. He said that Bishop Maguire, who was known for his kindness and friendly nature, had "a compassionate and loving way with people... because of his love for Jesus."

Sister of Providence Mary Caritas Geary echoed Bishop Rozanski's sentiments, saying about Bishop Maguire, "He's everyone's friend... He was kind with everybody he met."

"Everyone was the same to him," Sister Geary said. "He treated everyone the same way."

An estimated 650 to 700 "friends" of Bishop Maguire's attended the funeral Mass, along with more than 100 priests and deacons from the Springfield and Fall River dioceses and the Boston Archdiocese, as well as bishops from Maine and Connecticut. Cardinal Seán P. O'Malley, archbishop of Boston, was the Mass presider and Bishop Rozanski was the principal celebrant.

Although the papal nuncio to the U.S., Archbishop Carlo Maria Vigano, was unable to attend the funeral, he sent a message to Bishop Rozanski through the Vatican's secretary of state, saying, "The Holy Father was saddened to learn of the death of the Most Reverend Joseph Francis Maguire, Bishop Emeritus of Springfield, and he sends his heartfelt condolences to the clergy, religious and lay faithful of the diocese.

"Recalling with gratitude the late bishop's many years of episcopal ministry, he joins you and all present at the Mass of Christian Burial in commending Bishop Maguire's soul to the merciful love of God our Father," the letter stated. "To all who mourn the late bishop's passing, especially his family and friends, His Holiness cordially imparts his Apostolic Blessing as a pledge of peace and consolation in our Lord Jesus Christ."

Springfield Bishop Emeritus Timothy A. McDonnell was the homilist at the funeral Mass. "Thank you, Bishop Rozanski, for the privilege of entering this pulpit again," Bishop McDonnell said, before beginning the homily, "although I wish it were under different circumstances."

Bishop McDonnell referenced the words of the first reading at the Mass, "How beautiful upon the mountains are the feet of him who brings glad tidings," noting, "He (Bishop Maguire) was constantly someone who proclaimed good news, glad tidings, Gospel joy!"

Worshipers responded with gentle laughter when Bishop McDonnell spoke about how the young, athletic Joseph Maguire was ordained to the priesthood with a cast on his leg, which was broken during an energetic slide into home base.

"The day after his ordination, cast and all, his feet mounted the sanctuary steps to celebrate his first Mass," said Bishop McDonnell, "and he continued celebrating Mass day in and day out until the last few months of his life when illness made it impossible."

During Bishop Maguire's 38 years in the Springfield Diocese, said Bishop McDonnell (left), he was "always seeking to model himself on Christ the Good Shepherd." He said that Bishop Maguire "was with the flock in joy and sorrow, in good times and bad. He worked at being a true shepherd to all people.

"When it came to light that young people had been abused by priests under his jurisdiction, he anguished over the pain those young people had suffered, pain they carried into adulthood, pain many carry still," Bishop McDonnell continued. "He asked for their forgiveness, regretting that he was not more aware at the time of all that was happening, and prayed intensely each day for God to ease their pain. He continued those prayers and those regrets to the end of his life, until the day he died."

Describing Bishop Maguire's role in retirement as "the diocese's heart," Bishop McDonnell said, "In his death, it's as if the whole diocese has lost its 'Grandpa.'"

In a brief reflection following the liturgy, Bishop Maguire's nephew, Richard Waystack, offered thanks to the people of western Massachusetts for "the love and support shown to our Uncle Joe."

"He was so well-loved," Waystack said, "not for his office or his position, but for his love for everyone he encountered... he was the embodiment of Jesus."

"Uncle Joe lived as Pope Francis challenged his priests to live -- to get involved with the lives of the people," said Waystack. "His greatest joy was just being among the people."

"Uncle Joe preferred to simply be a priest -- to live and preach the Gospel," he said. He said Bishop Maguire has left "a loving legacy to sustain us."

Waystack offered special thanks to Bishops McDonnell and Rozanski, and Msgr. Christopher Connelly, diocesan vicar general, for their daily visits to Bishop Maguire, and to the entire diocese "for embracing the life of our Uncle Joe."

"Your love enfolded him for 38 years in this beautiful diocese until he became a son of Springfield," said Waystack, a resident of Harwich Port on Cape Cod.

Cardinal O'Malley offered the prayer of commendation at the close of the liturgy, after which the bishop's body was brought to its final resting place, St. Michael the Archangel Mausoleum at St. Michael's Cemetery in Springfield.

In choosing to be buried in Springfield, Bishop Maguire had expressed, in a lasting way, his dedication to the people of western Massachusetts, said Msgr. Connelly. Speaking to iObserve after the committal service, he said Bishop Maguire "considered the diocese his extended family."

Like a good shepherd "who never leaves his flock untended," Msgr. Connelly said, Bishop Maguire wanted to be buried in a place where the members of his "flock" could come and pray for him.

Also speaking to iObserve at the reception after the committal services, Richard Waystack admitted, "It was tough for us to say good-bye to our Uncle Joe." But, he said, the family members were surprised and touched by the number of people, of all faiths, who spoke to them and told of their uncle's kindness.

"It's who he was, a man of faith," said Waystack. "He loved the diocese. He loved everybody he met. He wanted to be here."