From Cardinal Seán's blog
---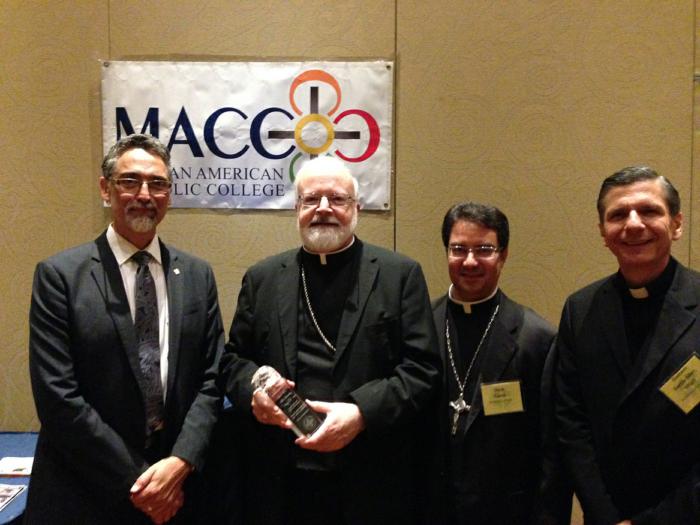 'With Bishop Cantu, who is the president of the board and Archbishop Gustavo Garcia-Siller the present Bishop of San Antonio, and the president of the college, Dr. Arturo Chavez.' Pilot photo/CardinalSeánsBlog.org
Help us expand our reach! Please share this article
I want to begin this week asking all of you to pray for the family of Ryan Morrissey, a teenager from Charlestown who attended St. Clement High School in Medford and was a victim of gang violence. He was a young man who had nothing to do with that world of gangs and drugs, but was simply in the wrong place at the wrong time. He and a friend were shot coming out of a convenience store near his home last Wednesday. This type of senseless violence and the proliferation of guns in our community is a very serious problem and it is a great sorrow to see young people's lives ended so senselessly. We pray for his family, his classmates at the school, and all his friends and acquaintances who are very much affected by this young man's untimely death.

Visit from Bishop Hinder

I spent much of this past week in Baltimore for the fall gathering of the U.S. Conference of Catholic Bishops. But before I left, on Thursday (11/6), I met with Bishop Paul Hinder, who is the Vicar Apostolic of Southern Arabia, which consists of the United Arab Emirates, Oman, Yemen, Qatar, Bahrain, and Saudi Arabia. Bishop Hinder is a Swiss Capuchin who was once our Definitor General in Rome. One of his seminarians is studying at St. John's Seminary, and he was here for a visit. Capuchins have worked in this very difficult part of the world for many years. There has been a great deal of persecution and violence against Christians in that region and we accompany all of them in our prayers. He brought me a typical gift from Arabia, frankincense.

Bishops' meetings

During the annual bishops' meeting we always have committee meetings before the larger sessions.

...As chairman of the pro-life committee, I have been involved in the Bishops' Working Group on the Life and Dignity of the Human Person. Archbishop Wenski, Bishop Malone and I made a presentation on the research that has been done to assess the attitude of American Catholics towards Church teaching. As I said in my remarks: "The secular culture is defining the Church and its teachings for our people. We ask ourselves why we aren't better able to reach them. Polls may tell us what people think, and how often they come to church but what is sometimes missing is the 'why.' Why do our people in the pews feel the way they do and how does that affect our capacity to transmit the gospel?"

During the assembly, there are always various receptions, and so forth, for the bishops. For example, Pope St. John XXIII Seminary hosts a breakfast where we can speak with bishops about the possibility of their sending seminarians to our seminary for second career vocations.

Then RENEW International also has a reception at which they showcase their programs for the bishops. And at that reception there was a presentation of a new book called "The History of the National Encuentros" by my good friend Mario Paredes and they had asked me to introduce the book, which I had written the forward to. There was also a reception by MACC in San Antonio, which started out as the Mexican American Cultural Center and for many years was involved in training people for Hispanic ministry in such areas as language and culture. During his time there, Archbishop Gomez elevated it to a college. So while it is still called "MACC," it is no longer the Mexican American Cultural Center, it is now the Mexican American Catholic College, and awards degrees in pastoral ministry for those training to work in Hispanic ministry.