Local 40 Days for Life campaign honored at MCFL banquet
---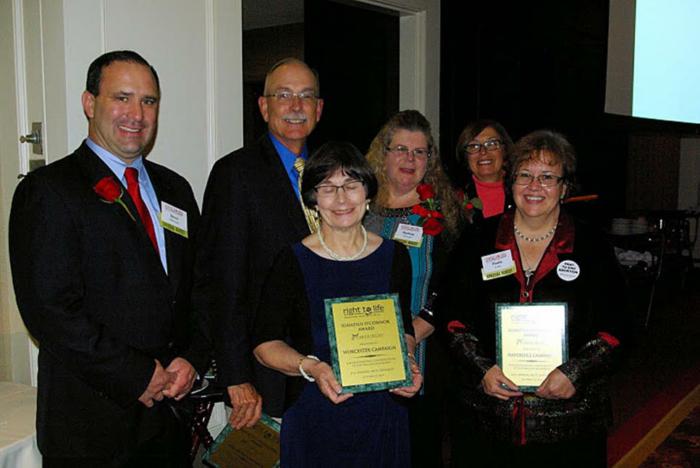 Coordinators of local 40 Days for Life campaigns Steve Marcotte, Ron LaRose, Pauline Morris, Darleen Howard, Rita Russo and Paula Lahti accept Massachusetts Citizens for Life's Ignatius O'Connor Award on behalf of all 40 Days participants at MCFL's annual banquet Oct. 23. Photo courtesy Edward Boylan
Help us expand our reach! Please share this article
NORWOOD -- Absolutely amazing" characterizes the hundreds of people who pray outside abortion clinics across the state, according to Anne Fox, president of the Massachusetts Citizens for Life (MCFL).

MCFL honored the participants at all six 40 Days for Life locations -- Attleboro, Boston, Haverhill, Lynn, Springfield and Worcester -- at their annual banquet on Oct. 23. Fox said their prayers make "a huge difference."

"When you're outside that clinic, there are times when you can just feel the prayers working on the inside," Fox said. "We are fortunate to have 40 Days as part of the pro-life family."

MCFL also honored other individuals, including Dr. Barbara Rocket, a Newton surgeon and long-time pro-life advocate who assisted in the defeat of doctor prescribed suicide in 2012.

"I first met Barbara Rocket right after the Supreme Court decision," said Fox. "I said, 'What can we do about Roe v. Wade?' and she said, 'There's a meeting of Mass. citizens in your town next week,' and that's how I got started."

Bea Martins spoke about each of the four chapter members who received awards from MCFL. She said Monica Silvey, chair of the Greater Lawrence Chapter, has made an amazing effort to increase the chapter's presence. James and Bernadette Lyons of the Greater Lawrence chapter have shown great dedication to their community; James served for many years as a state legislator. Muriel Ostrowski of the Burlington Chapter has helped "hundreds of women to become mothers and to take care of their children" as the executive director of Heartbeat Pregnancy Center. Martins called Thomas Pasternack, a pharmacist and member of the Greater Fall River Chapter, a "stalwart," particularly for his assistance in fighting physician-assisted suicide legislation.

After the honors, Fox spoke to the hundreds gathered at the Four Points by Sheraton in Norwood.

"Life is not a social issue. Life is the basic issue. We could solve so many of society's problems with the restoration of the right to life," Fox said.

"The legal system is corrupted by abortion," she added. "When abortion is involved, common sense goes out the window."

She used as an example the new buffer zone law, passed in the 11th hour of the previous legislative session. The United States Supreme Court unanimously struck down a different, 35-foot buffer zone law in June. Despite the unanimous decision and the fact that no incidents occurred outside of clinics in the interim between buffer zone laws, politicians scrambled to pass the new buffer zone law in July. The new law allows a single police officer the discretion to require anyone "substantially impeding" access to the clinic to stand back 25 feet for a period of eight hours.

Fox said that the main focus of MCFL is education; even when preparing for an election, the focus is on educating voters about candidates. She outlined the projects MCFL has been working on, including coordinating events for young people, opposing new physician assisted suicide legislation, publishing Pro-Life materials and organizing the annual Respect Life Walk that aids mothers and children.

MCFL is also behind a non-binding question on the ballot in 11 districts this November -- 6th, 7th, 8th Bristol (Fall River, Freetown), 12th Hampden (Wilbraham, Springfield), 4th, 5th, 12th Norfolk (Braintree, Weymouth, Norwood), 5th Plymouth (Rockland, Norwell, Hanover) and 3rd, 4th, 16th Worcester (Fitchburg, Leominster, city of Worcester). The question will instruct local legislators to vote in favor of an upcoming bill that would require the state to license and inspect abortion clinics. Currently, there are at least 15 unlicensed, uninspected facilities.

The keynote speaker, Ryan Bomberger, praised the ballot initiative and the regulation of abortion clinics. He quipped, "Self-policing usually doesn't work."

Bomberger and his wife created The Radiance Foundation, an educational pro-life organization. The group has many projects, including ads that brought attention to the fact that black children are much more likely to be aborted. The National Association for the Advancement of Colored People (NAACP) called that campaign "racist."

Bomberger, who is black, expressed disdain for that idea and for organizations that seek to support blacks but also support abortion. "Abortion does not advance colored people. It kills them," he said.

He said his first hero is his birth mother who was raped but chose to give him up for adoption.

"God can always make triumph rise from tragedy," he said. "We are stronger than our perceived or actual circumstances. People overcome every day."

He added that there is a myth that unintended equals unwanted equals unloved.

"Some of the best things in life are unplanned," he said.