'Hunger Chopped': Local chefs compete to support Catholic Charities
---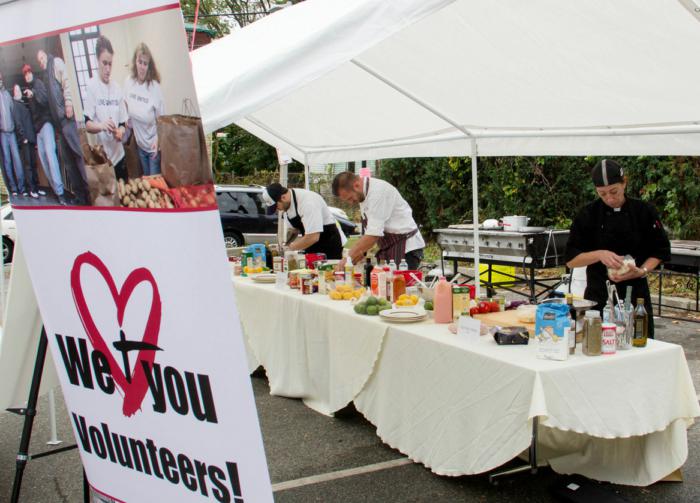 Chefs Joshua Ingraham, David Verdo and Nikki Christo face off to raise awareness of Catholic Charities Friends Feeding Families campaign at Catholic Charities' Yawkey Center Oct. 21. In a challenge based on the Food Network program "Chopped," the three chefs vied to create the most delicious meal in under 45 minutes using only food available at the center's food pantry. Pilot photo/Christopher S. Pineo
Help us expand our reach! Please share this article
DORCHESTER -- Three professional chefs put their skills to the test during the Catholic Charities event "Hunger Chopped," Oct. 21, at the Yawkey Center in Dorchester.

In an event to raise awareness for Friends Feeding Families, a Catholic Charities anti-hunger campaign, Nikki Christo, chef and owner of Blunch in Boston; David Verdo, executive chef at Chopps American Bar and Grill of the Marriott in Burlington; and Joshua Ingraham, executive chef of Boston Gourmet at the Boston Symphony Orchestra and Tanglewood, faced off in a competition styled after the popular Food Network program "Chopped."

The Food Network progam features chefs using a set of ingredients provided in a mystery bag. At the Catholic Charities event, the chefs were challenged to be creative using only the food available at the Yawkey Center food pantry.

Chefs rushed into the pantry, given only 15 minutes to select ingredients, and then just 30 minutes to prepare and plate a dish for judges Catholic Charities president Debbie Rambo; Catherine D'Amato, president and CEO of Greater Boston Food Bank; and David Waters, CEO of Community Servings, Inc.

"Our food pantries are providing a vital service. Making food interesting is really part of all we do, not just for people who can afford to buy, but people who might need the support of a food pantry to get by," Rambo said after the event.

Joseph Burnieika, who runs Catholic Charities Greater Boston and the Yawkey Center, kept participants and the audience informed of the remaining time as the clock ran down.

Ultimately, Joshua Ingraham came out on top. Ingraham's dish included a hand-made, from-scratch ravioli with chicken and cheese inside.

"I love anything that's home cooking, so to see you make pasta from scratch is incredible, and a great lesson for people that all it takes is flower and egg in their pantry to be able to make pasta. You saw how fast he made it," Waters told Ingraham during the judging.

Ingraham told The Pilot the dish he prepared in under a half hour can be prepared easily at home with limited resources.

"The ravioli was just a little recipe I have kind of had in the back pocket for a little while. As a chef you get things that you can do really well, and that's one of the ones that I teach to my students as well -- three, two, one. Three eggs, two cups of flour, and one tablespoon of olive oil, every single time," Ingraham explained.

The other two chefs said their time donated to Catholic Charities came down to more than an opportunity to showcase their skills in head-to-head competition.

Christo said she chose some canned ingredients to show their use in preparing meals with nutritional value and flavor. She kept this in mind as she headed into the pantry.

Christo plated corn succotash, grilled sweet potato, and a sauteed chicken dish for the judges.

"It doesn't necessarily have to be fresh to be good. That was probably what I was trying to pick, because I did pick quite a few canned vegetables," she told The Pilot.

Students from Catholic Charities Child Care program, food pantry clients, elected officials and other invited members from the nonprofit community attended the outdoor event, on Columbia Road in Dorchester.

After the competition Verdo noted that the event highlighted the availability of fresh food at the Catholic Charities food pantry. Verdo prepared grilled chicken with a vegetable succotash prepared in a reduced vegetable stock.

"I think it's a great cause of teaching about food and the ingredients they can use in their pantry. It's not just limited to the canned stuff. You can go get fresh fruits there, you can get fresh vegetables, fresh chicken, and make a great dish," Verdo said.

The competition took place on National Food Day, a nation-wide celebration and movement for healthy and affordable food. Last year, Catholic Charities food pantry in Dorchester served approximately 57,400 individuals and families in need.

Sponsors of the Friends Feeding Families campaign include Arbella Insurance Foundation, Century Bank, Eastern Bank, Gourmet Caterers, John Hancock, Highland Street Foundation, Rick Lord, Massachusetts State Council Knights of Columbus, NStar and Roche Bros.