New superintendent Mears welcomed at BC reception
---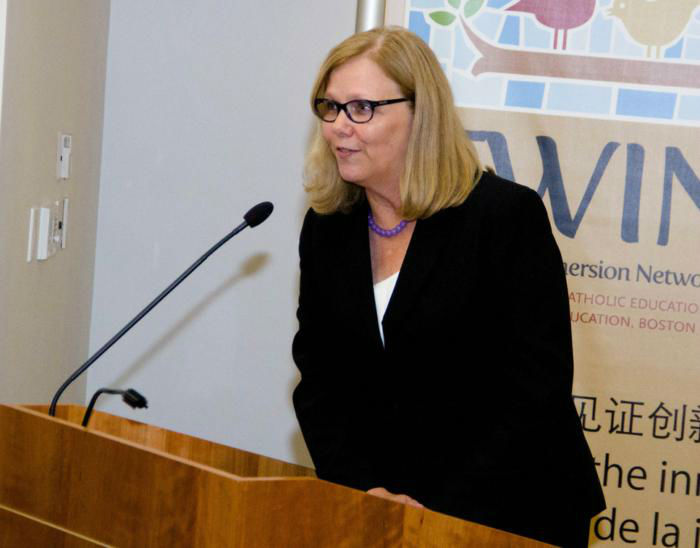 Boston's new Superintendent of Catholic Schools Kathleen P. Mears speaks at the Sept. 30 reception hosted by Boston College in her honor. Pilot photo/Christopher S. Pineo
Help us expand our reach! Please share this article
BRIGHTON -- Local Catholic educators welcomed the Archdiocese of Boston's new Superintendent of Catholic Schools Kathleen P. Mears, Sept. 30, at a reception at Boston College's Cadigan Alumni Center.

Patricia A. Weitzel-O'Neill, executive director of BC's Barbara and Patrick Roche Center for Catholic Education, and Maureen E. Kenny, dean of the Lynch School of Education, offered remarks for the gathering of Catholic educators from around the city including Boston College professors and administrators, the staff of the Catholic Schools Foundation and staff of the archdiocese's Catholic Schools Office.

A native of Illinois, Mears is married with two grown children, and served as Executive Director for Elementary Schools with the National Catholic Educational Association (NCEA) Elementary Schools Department before coming to Boston. Mears holds a Master of Science in Education from Butler University and a Bachelor of Arts in Education from Elmhurst College.

Mears began her career as Catholic school teacher and later served as a Catholic school principal, before she served as assistant superintendent of Archdiocese of Indianapolis.

Mears officially assumed her role as Boston superintendent on Sept. 15.

"She is always finding God and good in others. So many of us know her work and have benefitted from her creativity, her commitment, her good humor, great sense of humor, overwhelmingly positive can-do outlook, and so together tonight all of us welcome you Kathy to Boston," Weitzel-O'Neill said.

"That was wicked awesome," Mears joked, as she spoke to the crowd. "That's all the Boston lingo I know."

The speakers commended her as a leader in Catholic schools on a national level, with a particular focus on data-driven policies informed by experience.

"I am overwhelmed and humbled. I am a farm girl from the middle of Illinois. I don't belong here, but I am so excited and happy to be here," Mears said.

Mears welcomed the opportunity to participate in the ministry of Catholic education alongside her peers gathered at the reception.

"When I look around the room and see all the amazing people in this room and their commitment to Catholic education, and their desire to build the greatest school system in the Catholic world, I know we will not fail," she said.

Mears said she knew Catholic educators would take a good system and make it better, which she said had to be done in collaboration. "Like I said, I'm the farm girl from Illinois. I only know how to work together," she said.

She welcomed the support of those gathered to help forward the goals of Catholic education in the Archdiocese of Boston as she begins her tenure.

"I'm extending the invitation. Please join us, and let's just make it great," she said.

After the reception, Boston College president Father William P. Leahy said it was important to welcome the new superintendent on campus because of the collaborative nature of the college's relationship with the archdiocese's Catholic Schools.

"We want to get to know her, and her to get to know us, so that we can continue working together. Having all these people here is a reminder -- together we are strong, we can do a lot," Father Leahy said.

Father Joseph O'Keefe, a BC professor since 1991 and former dean at the Lynch School, whose research focuses on ways that educational leaders create sustainable institutions that enhance the common good, gave perspective on the collaboration between Catholic colleges and the Catholic Schools Office developing as Mears assumes leadership.

He said Catholic colleges, such as Emanuel College, Regis College, Merrimack College, and Stonehill College, have joined the collaboration.

"The Catholic colleges have really come on board to be much more proactive and engaged in Catholic schools," Father O'Keefe said.

He said the spirit of such collaboration developed in recent years, when BC looked at Catholic schools nearby -- St. Anthony's in Allston and Presentation Academy in Brighton had closed -- and decided to act.

"One Catholic school left, and we said as a Catholic university here we need to do something and we can do something. So, the St. Columbkille's Partnership School is an example of that," he said.

William Gartside, head of school at St. Columbkille Partnership School in Brighton, reflected on a theme Weitzel-O'Neill and Kenny had each mentioned in their talks -- Mears' focus on creating goals for Catholic education that organizations could reproduce.

He described how collaboration between St. Columbkille's preschool through eighth grade program and the Boston College Lynch School of Education -- the kind of partnership Mears now oversees between Catholic colleges and Catholic schools serving younger students -- helps him get qualified teachers to students at St. Columbkille's.

"BC is really responsible for this, but this model is replicable," he said.

Gartside said he hopes to see a financial and institutional focus toward leadership development for teachers.

"Once you start to do that, it will change everything in Catholic schools," he said.