North End's St. Joseph Society feast puts focus on family
---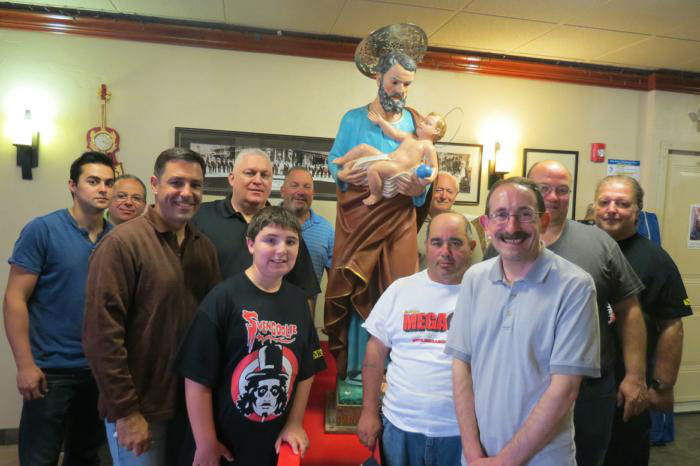 Members of the St. Joseph Society of Boston pictured in their Hanover Street headquarters Sept. 26. Pilot photo/Aileen McElroy
Help us expand our reach! Please share this article
The St. Joseph Society of Boston will celebrate the 89th annual St. Joseph's Feast beginning Friday, Oct. 3 and culminating Sunday, Oct. 12 with a Mass celebrated by Cardinal Seán P. O'Malley at St. Stephen's Church in Boston's North End.

The St. Joseph Society of Boston was formed by Sicilian immigrants and descendants hailing from the Riesi area of Caltanissetta, Sicily in 1925. In the North End today, the St. Joseph Society is 150-members strong with roots in Sicily and beyond. The Boston society celebrates St. Joseph's Day annually on March 19, opening their 467 Hanover Street chapel and headquarters for a feast involving blessings and thankful prayers to their namesake saint.

"On March 19, everyone in Sicily honors St. Joseph," says Jim Martorano, a member of the Boston St. Joseph's Society. "With our society, the priest gives a blessing and we serve food to the needy in the chapel all day. It is a fun day to celebrate St. Joseph in helping one another."

The St. Joseph Society of Boston raises money for local charities throughout the year and also honors St. Joseph with an annual feast on the streets of the North End. This year the society chose to move the date of their feast from July to October, Italian Heritage month.

The 89th annual feast will refocus this year on family. On Sept. 27, within the society chapel, members unraveled a street banner displaying the feast's dates while others readied the life-size St. Joseph statue for this weekend's procession.

Martorano pointed to a framed black-and-white photo that hangs on the Hanover St. headquarter walls. The panoramic photograph depicts a large gathering of families participating in the St. Joseph's Feast procession on a Hanover Street more than a half-century ago.

"This is what we want to do this year. We want to bring the focus back to the family," Martorano says. "When we were growing up, every family was together on Sundays and holidays. During feasts, we would bring our chairs and sit and catch up. We want to do that this year. Families are the bricks that build society. We want to get everything back to family."

This year's feast will kick off Friday Oct. 3 with a special presentation on John Romano, a North End resident who has contributed much of his time to local community service through programs for sports, the arts and the elderly.

On Saturday, Oct. 4 at 11 a.m., there will be a blessing at the St. Joseph of Boston Society Chapel, followed by a procession to the Prado (Paul Revere Mall) where the St. Joseph statue will remain for viewing throughout the day.

Festivities at the park include children's activities: face painting, balloons, crafting sand bracelets and painting pumpkins. A talented lineup of local musicians will take the stage including Street Magic, Ray Cavicchio and his Orchestra, Frank Zarba, Cecilia Colucci, Gian Faraone and the NEMPAC singers.

Saturday evening, feast attendees can relax under tents set up on Hanover Street and enjoy the evening with food, drink and dessert while listening to musical acts sing a capella, Italian ballads, 50s and 60s music and more.

"We'll have live accordion music and we are going to make it like a sidewalk cafe. It will feel like you are in Italy on a piazza," says Martorano smiling.

On Sunday, Oct. 5, there will be a Mass in honor of St. Joseph at St. Stephen's Church followed by a 1 p.m. procession when members carry the statue on a red Sicilian carriage laden with lilies and walk North End streets alongside the Italian-American band, the North End Marching Band and dancing serenaders in red and white Sicilian costume.

During feast days, attendees are welcome inside the glass doors of the St. Joseph Society of Boston's chapel and headquarters.

"They can come in and pin a dollar to St. Joseph or say a prayer at the altar," says Martorano.

The reverence for St. Joseph is evident in the society chapel among members as they list some of the numerous causes -- universal Church, fathers, laborers, working people, real estate and dying people -- that St. Joseph represents as patron saint.

"St. Joseph was quite a guy and he never took credit," says Martorano. "He raised Jesus. He was a carpenter and taught him to be a carpenter. He protected Jesus and Mary. He did what he had to do to save the Holy Family. He is the most unpublicized saint there is, but without him this all never would have happened."

Society members especially admire Pope Francis' deep devotion to St. Joseph.

"One of Pope Francis' favorite saints is St. Joseph," says Martorano. "It's amazing. The pope has such a dedication to St. Joseph. There are three things the pope has done to show his devotion to St. Joseph. He insisted on being inaugurated as pope on St. Joseph's Day, March 19, which is phenomenal. Wherever he sleeps, there needs to be a St. Joseph statue in the room. And the pope has now incorporated St. Joseph's name into the eucharistic prayer. The pope calls St. Joseph 'a man's man.' He wants to give St. Joseph credit. We're so proud of what the pope does and the pride he has in St. Joseph."

Shortly after learning of the pope's dedication to St. Joseph, the society wrote a letter to the pope inviting him to come to Boston.

"At first, we thought it was a stretch of the imagination and didn't think it was realistic, the pope coming to Boston, but if we don't dream big, nothing happens," says Martorano.

The invitation to bring Pope Francis to Boston gained momentum when Cardinal O'Malley and Boston mayor Marty Walsh invited the pope as well.

When the society learned that Pope Francis is expected to attend the International World Meeting of Families gathering in Philadelphia in September 2015 with stops in New York and Washington D.C., they grew excited as their dream to bring the pope to Boston now seems a bit more tangible.

"It may be a stretch but that would be marvelous if he can come to Boston. Hopefully we can give him enough reasons that he will think 'Gee, maybe I will swing by Boston,'" Martorano said.

This weekend and next, the St. Joseph Society plans to provide a further visual reason for the pope to visit Boston by filming the events of St. Joseph's Feast and asking Cardinal O'Malley to deliver the video to the pope.

"Our theme coincides with what the pope is doing with families," says Martorano. "We want to hopefully convince the pope through the cardinal to come to Boston."

Martorano notes that the highlight of the St. Joseph's Feast will be the Oct. 12 Mass celebrated by Cardinal O'Malley at St. Stephen's Church followed by a meet and greet with the cardinal at the Paul Revere Mall. Mayor Marty Walsh, the USS Constitution color guard, the Knights of Columbus and the Italian Consul will also be in attendance.

Martorano hopes to enlist everyone in helping bring the pope to Boston. He urges all to attend the "St. Joseph and Family" Oct. 12 Mass at St. Stephen's at 11 a.m.

"We want to make it beautiful," says Martorano. "We want to have St. Stephen's full. Everyone is invited. It's about St. Joseph and the family. It's about everyone and that's what we represent."

For more information on the St. Joseph of Boston Society, visit saintjosephsboston.org.