Leadership forum strategizes on 'protecting families' in casino fight
---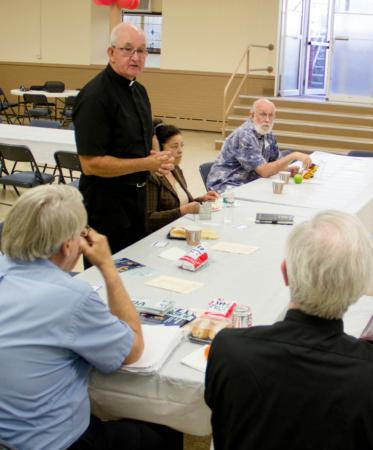 Father Thomas Dumorant, pastor of Most Holy Redeemer parish in East Boston speaks at a meeting of Stand for Democracy hosted in his parish Sept. 12. Pilot photo/Christopher S. Pineo
Help us expand our reach! Please share this article
EAST BOSTON -- Even as the four bishops of Massachusetts were publicly stating their opposition of casino gambling in the state, faith leaders and community organizers from throughout the Boston area met Sept. 12, at Most Holy Redeemer Parish in East Boston, to discuss their own strategy in the social justice campaign.

Organized by Stand for Democracy, the meeting gave pastors and clergy a forum to discuss the ramifications and specifics of the "Yes for Justice Campaign," centered on opposing expanded casino gambling in Massachusetts and supporting working people and families. The campaign will push for a "yes" vote on both Question 3 and Question 4 in the November election. Question 3 aims to repeal casino gambling, while Question 4 seeks to guarantee workers paid sick leave time in the state.

Pedro Morales, organizer and strategist for Stand for Democracy, said linking the two questions in the one campaign provides a stable platform for religious leaders to stand on.

"They are both about protecting families, communities, and workers, and it's very consistent with the general messages that the Christian churches and other churches actually promote," he said.

Morales said Stand for Democracy was formed in the aftermath of the 2013 referendum on a proposed casino on property owned by Suffolk Downs Racetrack.

Because the proposed development straddled the Revere and East Boston city lines, the plan required approval by both communities. At the time of the vote, Morales worked with local clergy and the group Friends of East Boston to urge rejection of the plan.

While Revere voters approved the proposal, East Boston voters rejected it, effectively killing the plan. However, the state gaming commission voted to waive its own rules to allow developers extra time to create a Revere-only development.

"They gave Suffolk Downs a second chance, something that we're pretty sure would never be granted to us, had we lost," Morales said.

When Revere voters approved the revised plan, opponents cried foul. Morales called it a mockery of democracy.

"At that point, it was not just the casino but democracy itself that was for us a question. So, for some of us, that meant that we took a different direction and started this group, Stand for Democracy," Morales said.

Stand for Democracy held its first public event at the Harvard Divinity School in 2014 and announced what they dubbed a "One Thousand Minister Anti-Casino Conference" at Harvard in the Fall to bring together ecumenical and interfaith leaders.

Co-hosted by the pastor of Most Holy Redeemer, Father Thomas Dumorant, and Pastor Don Nanstad of Our Savior's Lutheran Church in East Boston, the meeting gave faith leaders a chance to strategize and ask questions.

Harvey Cox, research professor of Divinity at Harvard and advisor at Stand for Democracy, explained the focus of the campaign.

"This is not about bingo. It's not about wagering a few dollars with your friends at a poker game. This is about a huge industry, which is now targeting the poorest communities in the country," he said.

Cox addressed the viewpoint of casino proponents who say the industry creates jobs.

"Don't be fooled by the appeal that this is going to create jobs. Every careful investigation of casinos anywhere in the country has shown (that) not true. It creates a few construction jobs at the very beginning, when they build these predatory palaces, then that's gone," he said.

He cited the example of Atlantic City that has seen its fourth casino close this year.

The clergy exchanged information and ideas in a session that was closed to reporting.

Speaking to The Pilot after the meeting, Rev. Jeremy D. Battle, senior pastor at Western Avenue Church in Cambridge, said he asked the group's advice on how he might address the issue with his Baptist congregation.

"I will tell you, leaving here today, immediately Scriptures came to mind, immediately conversations about redistribution and actual impact began to become more relevant, and then having some of the priests and other leadership here to talk about it, even Professor Cox, it was just helpful in trying to develop the right vocabulary for my context," he said.